ประเด็นในรายการวิทยุ เจาะตลาดแดนมังกร
เพื่อ ประโยชน์ในการศึกษาวิจัยและเพื่อการค้นคว้าหาความรู้ ผมจึงได้นำข่าวและข้อมูลที่ผมได้เตรียมไว้สำหรับการทำรายการวิทยุ"เจาะตลาด แดนมังกร"ทาง FM 96.5 ของ อสมท. ทุกวันอาทิตย์มาใส่ไว้ให้ท่านผู้ฟังและผู้ที่สนใจนำไปใช้ในการสังเคราะห์และการเพิ่มเติมความรู้ ตามปรัชญาท่าน "ซุนวู่" ที่ว่า "รู้เขา-รู้เรา รบร้อยครั้งชนะร้อยครั้ง" -- สมยศ แช่มช้อย ---
ประเด็นข่าว
"

เว็บไซต์นี้ไม่มีวัตถุประสงค์ทางธุรกิจและการค้า"
This is

Non-Commercial Objective Website
ประเด็นสำหรับรายการ "เจาะตลาดแดนมังกร" วันอาทิตย์ที่ 11 มีนาคม 2561
1. วิเคราะห์เจาะลึก ดูผลงานการทำงานของผู้นำรุ่นที่ 5 ของจีนในรอบ 5 ปี ที่ มีอะไรที่สำคัญและเป็นผลงานโดดเด่นบ้าง ? และทำไมจึงได้มีการต่ออายุการทำงานให้ประธานาธิบดี "สี จิ้นผิง"
(习近平,
[ɕǐ tɕîn.pʰǐŋ) สามารถดำรงตำแหน่งได้หลังครบวาระ เพราะอะไร ?
2. จับตาดู การค้าระหว่างประเทศจีนในรอบ 2 เดือนที่ผ่านมาของปีนี้ ทำไมจึงยังคงขยายมากได้ท่ามกลางสถานการณ์ "สงครามการค้า" (Trade War) ที่ ประธานาธิบดี "โดนัลด์ ทรัมป์" (Donald Trump) เริ่มใช้อาวุธทางด้านภาษีในการปกป้องทางการค้าแล้ว ? ผลจาก "สงครามการค้า" จะกระทบประเทศจีน และประเทศต่างๆ ทั่วโลกอย่างไร ?
3. เกิดอะไรขึ้น เมื่อ บริษัท "จีลี่" (Geely Automobile) บริษัทผลิตรถยนต์ของจีนประกาศซื้อกิจการของ "เดมเลอร์" (Daimler) ผู้ผลิตรถ "เบนซ์" (
Mercedes-Benz) แห่งเยอรมัน ? ต้องมอง
การรุกคืบของธุรกิจจีนในตลาดโลก ใครทุนหนากว่าใคร ?
4. ทำไมผู้นำจีนชุดปัจจุบันจึงได้ให้ความสำคัญกับ อุตสาหกรรมพลังงานทดแทน และพลังงานทางเลือกอย่างมาก เป็นเพราะอะไร ? และมีบริษัทจองจีน บริษัทไหนที่มีการพัฒนานวัตกรรมพลังงานทดแทนกันบ้าง ?
ติดตามได้ทางวิทยุ "FM 96.5" อสมท และทางสื่อออนไลน์ "Thinking Radio" และ Facebook Live
เวลา "บ่ายสองโมงครึ่งถึงสี่โมงเย็น"
วันอาทิตย์นี้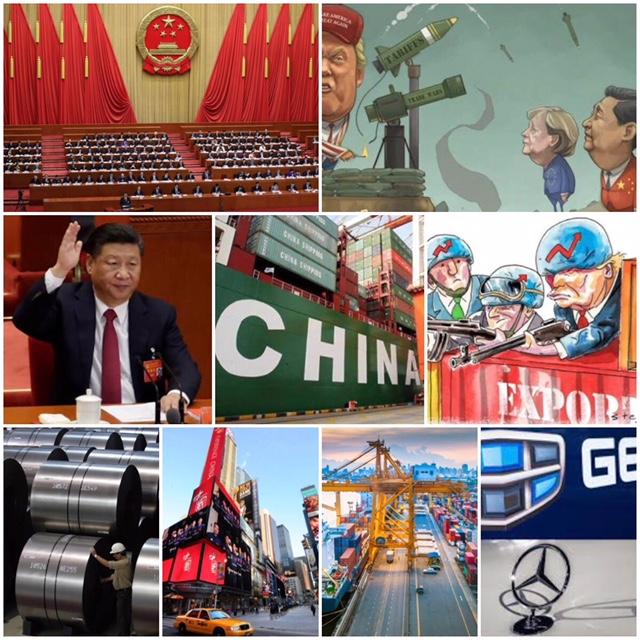 China to be bolder in opening up financial sector: central bank governor
Source: Xinhua| 2018-03-09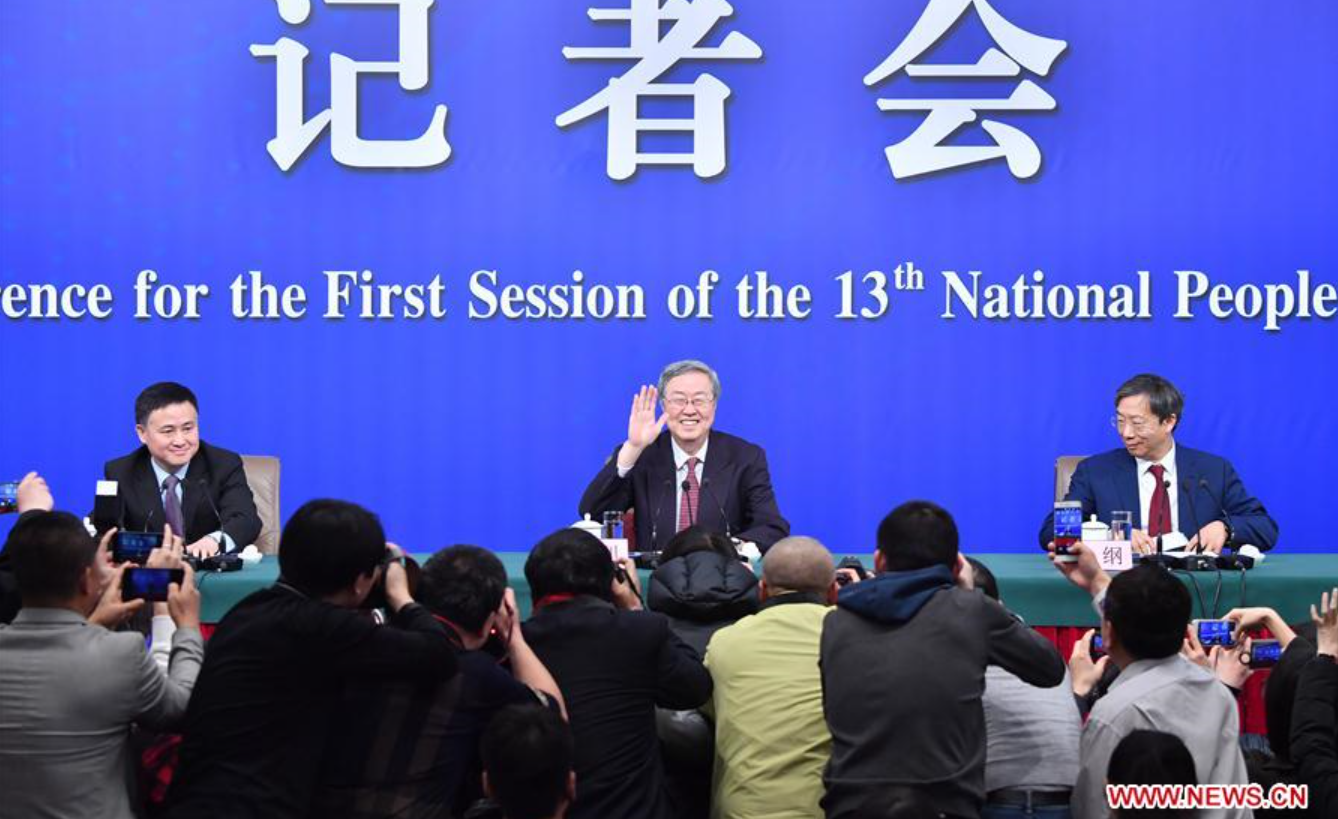 Zhou Xiaochuan (C), governor of the People's Bank of China (PBOC), Yi Gang (R), deputy governor of the PBOC and Pan Gongsheng, deputy governor of the PBOC and head of the State Administration of Foreign Exchange, attend a press conference on financial reform and development on the sidelines of the first session of the 13th National People's Congress in Beijing, capital of China, March 9, 2018. (Xinhua/Li Xin)
BEIJING, March 9 (Xinhua) -- China will be bolder in opening up its financial sector, Zhou Xiaochuan, governor of the central bank, said here Friday.
"We have studied most of the policies and will look for opportunities to advance the progress," Zhou told a press conference on the sidelines of the annual session of the National People's Congress (NPC).
China will open up its financial sector to foreign investment through measures including making market entry standards the same for both Chinese and foreign banks.
China has made progress on currency convertibility in the past five years by introducing stock and bond connect programs between the Chinese mainland and Hong Kong, which are all part of the country's financial opening up, he said.
He also pointed out that the opening up of the financial sector includes not only widening market access for foreign investors, but also the global expansion of China's domestic financial institutions and promotion of global use of yuan.
"The globalization of the yuan will be a gradual process," he said, noting that the central bank will work to enhance connection between China's capital market and other markets, and at the same time push for the convertibility of capital accounts.
Meanwhile, granting equal treatment to both domestic and foreign investors does not mean loosening regulation, said Yi Gang, vice governor of the People's Bank of China, at the same occasion.
Foreign financial institutions will be under the same prudent regulation as Chinese ones to forestall risks and protect financial stability.
"Internet of Things" for China's Agriculture
China's latest plan for agriculture is to substitute big data and artificial control for traditional farming methods.


On January 10,2018 Vice Minister of Agriculture Yu Xinrong announced the launch of regional pilot "Internet of things agriculture projects."
The "Internet of things" (物联网) is the network of gadgets and sensors that are connected through the Internet, collect and compile vast amounts of data and can be controlled remotely from computers or mobile phones. Applications are mainly for remote-controlled greenhouses, animal traceability systems, and monitoring of transportation and storage facilities.
The pilot projects are in Tianjin, Shanghai, and Anhui. Mr. Yu made the announcement during a trip to Shanghai where he visited the Bio-tag Ltd. Co. which makes electronic tags for animals, the Shanghai Infrastructure Agriculture Internet of Things Base, a vegetable company, the Shanghai Internet of Things Service Center, the animal traceability electronic service center, and the Plant Growth Perception Demo and had discussions with experts and company executives.

Vice Minister Yu said that the recent "agricultural work meeting" in Beijing recommended relying on science and technology-support and innovation-drive to follow the path of modern agriculture with Chinese characteristics. The "Internet of things" strategy will be "government-guided" and "market-driven." Policies supporting technology and innovation will support the Internet of things strategy, said Mr. Yu. The strategy emphasizes "system design" and a concept of "whole system, all factors, whole process."

Tianjin's agriculture commission's description of its projects gives some clues about what "Internet of things" agriculture is. The project is described as part of the municipality's transition from traditional agriculture to information-ization and intelligent development. Other buzz words include "science and technology planning," "small and medium enterprises," "high-tech companies," and "metropolitan-style agriculture."

Over the past two years, 14 Tianjinprojects have received public investment of 3.34 million yuan ($547 million) and private investment of 27 million yuan ($4.4 million) in research, demonstration and use of "Internet of things" in agriculture. Four key projects illustrate the applications of "Internet of things".

First is a system for climate control in greenhouses. An intelligent engineering system designed for artificial control of greenhouse temperature and air collects data and sends out warnings when temperature falls dangerously low in the cold winter months. A second project is aimed at improving food safety by monitoring microorganisms in milk at each stage "from cow to table." The dairy monitoring is said to increase transparency and improve the reputation and competitiveness of dairy companies.

A third project addresses problems in the chicken industry by again collecting and storing data on the various stages of the supply chain. The chicken project also plans to set up a system for remotely offering advice to farmers on disease diagnosis and prevention. This is supposed to raise profits for companies and attract more farmers to raise chickens and earn more money.

The fourth project addresses problems with growing vegetables in plastic-covered hothouses. This will use the latest micro-power wireless technology to collect data from temperature and humidity sensors and early detection of pests. Vegetables will be tracked and monitored visually in transportation and storage using GPS, RFID, sensing, and GIS to facilitate scheduling.
China has a long love affair with technology and engineering solutions for agriculture. They have been building space-age agricultural facilities since the 1980s and much of this technology was used in Beijing's food safety system during the 2008 Olympics. Treating the food system like a space program may achieve impressive results but such systems fall into disuse once officials have lost interest, equipment breaks down and no one knows how to use it properly. Agriculture is a complex activity and there is no substitute for a farmer who knows his land and his customer.
Economic outlook expected to be bright in 2018
Chinadialy | 2018-01-19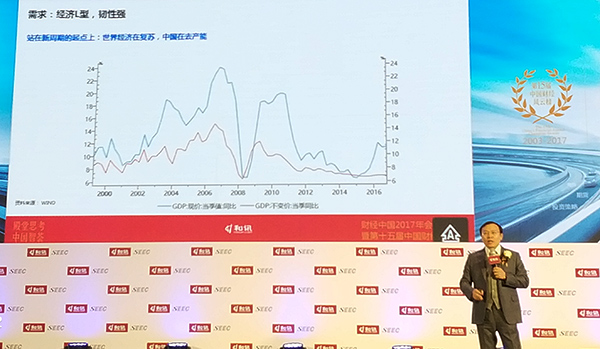 Evergrande Group Chief Economist Ren Zeping made a speech at a forum held in Beijing on Jan 18, 2018. [Photo by Song Jingli/chinadaily.com.cn]
China's economy this year will grow by between 6.5 percent and 6.8 percent year-on-year, Fan Hengshan, vice secretary of National Development and Reform Commission, predicted on Thursday.
"I am afraid the economic growth in 2018 might be difficult to exceed the 6.9 percent growth rate recorded in 2017, which was unexpectated," Fan told participants at the "New Order, New Power" forum held by news portal Hexun.com.
But Fan said he was optimistic about the economic outlook, as effects of major reforms these two years would continue to surface in 2018.
Like Fan, Evergrande Group Chief Economist Ren Zeping also shared his high expectations for the country's growth.
Ren reemphasized his opinion that Chinais now at the starting point of a "new" recovery cycle as the global economy is recovering and China's outdated capacity has been eliminated.
He said that at the beginning of 2017, there were hot debates on the "new cycle" prediction between economists, which indicated there were divided opinions on how the economy would develop.
However, the country's actual growth realized last year has shown that the new cycle has really come into being and that was due to three things done right by the country's decision makers, Ren added.
"The leadership has figured out where the problems were and correspondingly came up with the right solution, which was the supply-side reform," said the economist.
"In addition, the execution has been very strong," he said, citing the anti-air pollution campaign as an example.
Xi thought proposed to be included in Constitution
Xinhua | 2018-01-19
The second plenary session of the 19th Communist Party of China (CPC) Central Committee, presided over by the Political Bureau of the CPC Central Committee, is held in Beijing, capital of China, from Jan. 18 to 19. [Xinhua/Xie Huanchi]
BEIJING -- The Communist Party of China (CPC) Central Committee Friday proposed to write Xi Jinping Thought on Socialism with Chinese Characteristics for a New Era into the Constitution.
Major theoretical achievements, principles and policies adopted at the 19th CPC National Congress should be incorporated into the upcoming revision to the Constitution, according to a communique issued after the second plenary session of the 19th CPC Central Committee, which was held in Beijing Thursday and Friday.
A proposal from the CPC Central Committee on the revision to the Constitution was adopted at the meeting.
New achievements, experiences and requirements of the development of the Party and nation should be embodied in the revised Constitution, according to the communique.
"We should keep pace with the times and improve the Constitution while maintaining its consistency, stability and authority," the document said.
The CPC Central Committee stressed "holding high the great banner of socialism with Chinese characteristics and fully implementing the spirit of the 19th CPC National Congress" in amending the Constitution.
The amending process should take Marxism-Leninism, Mao Zedong Thought, Deng Xiaoping Theory, the Theory of Three Represents, the Scientific Outlook on Development, and Xi Jinping Thought on Socialism with Chinese Characteristics for a New Era as the guide, according to the communique.
Chinese President Xi Jinping delivers a New Year 2018 Speech
Chinese President Xi Jinping delivers a New Year speech at 19 p.m. on December 31, 2017 Beijing time to domestic and overseas audience. [Photo/Xinhua]
Comrades, friends, ladies and gentlemen,
Greetings! Time flies. As we are ushering in the year of 2018, I would like to extend my New Year wishes to my countrymen and women from all ethnic groups, in Hong Kong and Macao special administrative regions and in Taiwan, as well as overseas Chinese. I also wish good luck to friends from all countries and regions across the world.
It is only natural that hard work pays off, and it brings changes for the better every day. In 2017, we held the 19th National Congress of the Communist Party of China, embarking on a new journey towards the all-round building of a modern socialist China. Our national GDP reached a new level of 80 trillion yuan. Over 13 million new job opportunities were created in urban and rural areas. The social old-age pension schemes have covered more than 900 million people, while 1.35 billion people have gained access to basic medical insurance. Another more than 10 million rural residents have been lifted out of poverty. "If only I could get tens of thousands of mansions! I would house all the poor people who would then beam with smiles(ancient Chinese poet Du Fu)." As part of our poverty alleviation efforts, 3.4 million people have moved into new and warm homes, and the goal of upgrading 6 million housing units in run-down areas has been realized in advance. The improvement of people's well-being has been accelerated, and the ecological environment has gradually improved. The people have gained a stronger sense of fulfillment, happiness and security. We are now one big step closer to the completion of a moderately prosperous society in all respects.
We have made one achievement after another in the fields of science and technology innovation as well as massive projects. The Huiyan Hard X-ray Modulation Telescope has launched into space. The C919 large passenger jet has completed its maiden flight. The quantum computer has been successfully developed. Saltwater paddies have begun trial production. The first domestically built aircraft carrier has been put into use. The Haiyi underwater glider has conducted deep-sea observations. Samples of combustible ice in sea areas have been collected successfully. The Yangshan Phase-IV Automated Porthas officially opened. The main structure of the Hong Kong-Zhuhai-Macao Bridge has been finished, and the Fuxing high speed trains have been operated across China… I would like to say Bravo to the great creativity demonstrated by fellow Chinese.
We held a military drill in Zhurihe training base, commemorating the 90th anniversary of the founding of the Chinese People's Liberation Army. Upon the 20th anniversary of Hong Kong's return to China, I paid a visit to it and saw with my own eyes that Hong Kong has maintained its long-term prosperity and stability with the firm support of the motherland, and it will surely enjoy a better tomorrow. In order to remember history and call for peace, we held a ceremony to mark the 80th anniversary of the War of Resistance against Japanese Aggression, as well as a national memorial service for the victims of the Nanjing Massacre.
China played host to several multilateral diplomatic events, including the first Belt and Road Forum for International Cooperation, the BRICS Summit in Xiamen, as well as the CPC in Dialogue with the World's Political Parties High-level Meeting. I also participated in some of the world's important multi-lateral meetings. In the beginning of 2017, I attended the Davos World Economic Forum and delivered a speech at the UN Headquarters in Geneva. Then I participated in other events including the G20 Summit and the APEC summit. On different occasions, I exchanged views with relevant parties, and all of us agreed to work together to build a community with a shared future for mankind, so as to benefit people all over the world.
In 2017, I received a lot of letters from the public, including villagers from Yumai Township of Longzi County in Tibet, members of a mounted cultural troupe in West Suned Prefecture of Inner Mongolia, professors of Xi'an Jiaotong University who had relocated there from eastern China decades ago, and graduates from Nankai University who had joined the army. Their stories all impressed me deeply. People have adhered to patriotism and devotion with neither complaint nor regret, which makes me feel that the common people are the greatest and happiness is generated through hard work.
Comrades, friends, ladies and gentlemen!
2018 marks the beginning of China putting into action the guiding principles of the 19th CPC National Congress, which designed a blueprint for the country's development for the next three decades. "A nine-storey tower begins with a pile of earth." To translate the blueprint into reality, we must neither rush upon fantasy nor be guided by the sound of falsehood. We shall work steadily and in a down-to-earth manner.
2018 marks the 40th anniversary of China's reform and opening up policy. The policy is the only way for modern China to make progress in its development as well as to realize the Chinese dream. With the 40th anniversary of the reform and opening up policy as a turning point, we shall cut paths through mountains and build bridges across rivers, overcome all difficulties and carry reform through to the end.
It is our solemn commitment to lift all rural residents living below the current poverty line out of poverty by 2020. Once made, a promise is as weighty as a thousand ounces of gold. It is only 3 years left before 2020, so the whole society shall take joint actions, strive to the best of our capabilities, and implement targeted measures for more success. If we win the battle against poverty three years later on schedule, that will mark the first entire elimination of absolute impoverishment in the Chinese nation's history which has lasted for thousands of years. Let's work together for this great achievement that is significant to both the Chinese nation and mankind.
At present, various sides have both expectations and worries about the prospect of peace and development for mankind, looking forward to Chinaexpressing its stand and attitude. The world is one big family. As a responsible major country, China has this to say: China will resolutely uphold the authority and status of the United Nations, conscientiously perform its due international obligations and responsibilities, keep its promises on global climate change, actively push forward the implementation of the Belt and Road Initiative, and always contribute to the building of world peace and global development, and the safeguarding of international order. The Chinese people are willing to work together with people of various countries in opening up a beautiful future of greater prosperity and tranquility for mankind.
Comrades, friends, ladies and gentlemen!
Our great development achievements have been made by the people, and should be shared by the people. I understand what concerns the people the most includes education, employment, income, social security, healthcare, elderly care, housing, and the environment. You have reaped the harvest from your hard work. You have also encountered quite some frustrations. There is still much room for improvement with regard to our work in relation to the people's livelihood. So we should strengthen our sense of mission and responsibility, and do practical and fruitful work for the sake of the people's welfare. The CPC committees, governments and officials at all levels shall always take into consideration the safety and necessities of the people whole-heartedly, and regard the work of benefitting the people as their top political achievement. They shall pay attention to and share the concerns of the people and create conditions for them to live a better and happier life.
Thank you all.
Full text of Xi Jinping's speech at opening of Belt and Road forum
Updated July 28, 2017 at 4:20 PM
Following is the full text of the keynote speech given by Chinese President Xi Jinping at the opening ceremony of the Belt and Road Forum for International Cooperation:
Work Together to Build the Silk Road Economic Belt and The 21st Century Maritime Silk Road
Speech by H.E. Xi Jinping
President of the People's Republic of China
At the Opening Ceremony of
The Belt and Road Forum for International Cooperation
14 May 2017
Distinguished Heads of State and Government,
Heads of International Organizations,
Ladies and Gentlemen,
Dear Friends,
In this lovely season of early Summer when every living thing is full of energy, I wish to welcome all of you, distinguished guests representing over 100 countries, to attend this important forum on the Belt and Road Initiative held in Beijing. This is indeed a gathering of great minds. In the coming two days, I hope that by engaging in full exchanges of views, we will contribute to pursuing the Belt and Road Initiative, a project of the century, so that it will benefit people across the world.
Ladies and Gentlemen,
Dear Friends,
Over 2,000 years ago, our ancestors, trekking across vast steppes and deserts, opened the transcontinental passage connecting Asia, Europe and Africa, known today as the Silk Road. Our ancestors, navigating rough seas, created sea routes linking the East with the West, namely, the maritime Silk Road. These ancient silk routes opened windows of friendly engagement among nations, adding a splendid chapter to the history of human progress. The thousand-year-old "gilt bronze silkworm" displayed at China's Shaanxi History Museum and the Belitung shipwreck discovered in Indonesia bear witness to this exciting period of history.
Spanning thousands of miles and years, the ancient silk routes embody the spirit of peace and cooperation, openness and inclusiveness, mutual learning and mutual benefit. The Silk Road spirit has become a great heritage of human civilization.
- Peace and cooperation. In China's Han Dynasty around 140 B.C., Zhang Qian, a royal emissary, left Chang'an, capital of the Han Dynasty. He traveled westward on a mission of peace and opened an overland route linking the East and the West, a daring undertaking which came to be known as Zhang Qian's journey to the Western regions. Centuries later, in the years of Tang, Song and Yuan Dynasties, such silk routes, both over land and at sea, boomed. Great adventurers, including Du Huan of China, Marco Polo of Italy and ibn Batutah of Morocco, left their footprints along these ancient routes. In the early 15th century, Zheng He, the famous Chinese navigator in the Ming Dynasty, made seven voyages to the Western Seas, a feat which still is remembered today. These pioneers won their place in history not as conquerors with warships, guns or swords. Rather, they are remembered as friendly emissaries leading camel caravans and sailing treasure-loaded ships. Generation after generation, the silk routes travelers have built a bridge for peace and East-West cooperation.
- Openness and inclusiveness. The ancient silk routes spanned the valleys of the Nile, the Tigris and Euphrates, the Indus and Ganges and the Yellow and Yangtze Rivers. They connected the birthplaces of the Egyptian, Babylonian, Indian and Chinese civilizations as well as the lands of Buddhism, Christianity and Islam and homes of people of different nationalities and races. These routes enabled people of various civilizations, religions and races to interact with and embrace each other with open mind. In the course of exchange, they fostered a spirit of mutual respect and were engaged in a common endeavor to pursue prosperity. Today, ancient cities of Jiuquan, Dunhuang, Tulufan, Kashi, Samarkand, Baghdad and Constantinople as well as ancient ports of Ningbo, Quanzhou, Guangzhou, Beihai, Colombo, Jeddah and Alexandria stand as living monuments to these past interactions. This part of history shows that civilization thrives with openness and nations prosper through exchange.
- Mutual learning. The ancient silk routes were not for trade only, they boosted flow of knowledge as well. Through these routes, Chinese silk, porcelain, lacquerwork and ironware were shipped to the West, while pepper, flax, spices, grape and pomegranate entered China. Through these routes, Buddhism, Islam and Arab astronomy, calendar and medicine found their way to China, while China's four great inventions and silkworm breeding spread to other parts of the world. More importantly, the exchange of goods and know-how spurred new ideas. For example, Buddhism originated in India, blossomed in China and was enriched in Southeast Asia. Confucianism, which was born in China, gained appreciation by European thinkers such as Leibniz and Voltaire. Herein lies the appeal of mutual learning.
- Mutual benefit. The ancient silk routes witnessed the bustling scenes of visits and trade over land and ships calling at ports. Along these major arteries of interaction, capital, technology and people flowed freely, and goods, resources and benefits were widely shared. The ancient prosperous cities of Alma-Ata, Samarkand and Chang'an and ports of Sur and Guangzhou thrived, so did the Roman Empire as well as Parthia and Kushan Kingdoms. The Han and Tang Dynasties of China entered the golden age. The ancient silk routes brought prosperity to these regions and boosted their development.
History is our best teacher. The glory of the ancient silk routes shows that geographical distance is not insurmountable. If we take the first courageous step towards each other, we can embark on a path leading to friendship, shared development, peace, harmony and a better future.
Ladies and Gentlemen,
Dear Friends,
From the historical perspective, humankind has reached an age of great progress, great transformation and profound changes. In this increasingly multi-polar, economically globalized, digitized and culturally diversified world, the trend toward peace and development becomes stronger, and reform and innovation are gaining momentum. Never have we seen such close interdependence among countries as today, such fervent desire of people for a better life, and never have we had so many means to prevail over difficulties.
In terms of reality, we find ourselves in a world fraught with challenges. Global growth requires new drivers, development needs to be more inclusive and balanced, and the gap between the rich and the poor needs to be narrowed. Hotspots in some regions are causing instability and terrorism is rampant. Deficit in peace, development and governance poses a daunting challenge to mankind. This is the issue that has always been on my mind.
In the autumn of 2013, respectively in Kazakhstan and Indonesia, I proposed the building of the Silk Road Economic Belt and the 21st Century Maritime Silk Road, which I call the Belt and Road Initiative. As a Chinese saying goes, "Peaches and plums do not speak, but they are so attractive that a path is formed below the trees." Four years on, over 100 countries and international organizations have supported and got involved in this initiative. Important resolutions passed by the UN General Assembly and Security Council contain reference to it. Thanks to our efforts, the vision of the Belt and Road Initiative is becoming a reality and bearing rich fruit.
- These four years have seen deepened policy connectivity. I have said on many occasions that the pursuit of the Belt and Road Initiative is not meant to reinvent the wheel. Rather, it aims to complement the development strategies of countries involved by leveraging their comparative strengths. We have enhanced coordination with the policy initiatives of relevant countries, such as the Eurasian Economic Union of Russia, the Master Plan on ASEAN Connectivity, the Bright Road initiative of Kazakhstan, the Middle Corridor initiative of Turkey, the Development Road initiative of Mongolia, the Two Corridors, One Economic Circle initiative of Viet Nam, the Northern Powerhouse initiative of the UK and the Amber Road initiative of Poland. We are also promoting complementarity between China's development plan and those of Laos, Cambodia, Myanmar, Hungary and other countries. China has signed cooperation agreements with over 40 countries and international organizations and carried out framework cooperation on production capacity with more than 30 countries. During the forum, a number of cooperation agreements on policy connectivity and action plans will be signed. We will also launch Belt and Road cooperation initiative on trade connectivity together with some 60 countries and international organizations. Such policy connectivity will produce a multiplying effect on cooperation among the parties involved.
- These four years have seen enhanced infrastructure connectivity. Building roads and railways creates prosperity in all sectors. We have accelerated the building of Jakarta-Bandung high-speed railway, China-Laos railway, Addis Ababa-Djibouti railway and Hungary-Serbia railway, and upgraded Gwadar and Piraeus ports in cooperation with relevant countries. A large number of connectivity projects are also in the pipeline. Today, a multi-dimensional infrastructure network is taking shape, one that is underpinned by economic corridors such as China-Pakistan Economic Corridor, China-Mongolia-Russia Economic Corridor and the New Eurasian Continental Bridge, featuring land-sea-air transportation routes and information expressway and supported by major railway, port and pipeline projects.
- These four years have seen increased trade connectivity. China has worked with other countries involved in the Belt and Road Initiative to promote trade and investment facilitation and improve business environment. I was told that for Kazakhstan and other Central Asian countries alone, customs clearance time for agricultural produce exporting to China is cut by 90%. Total trade between China and other Belt and Road countries in 2014-2016 has exceeded US$3 trillion, and China's investment in these countries has surpassed US$50 billion. Chinese companies have set up 56 economic cooperation zones in over 20 countries, generating some US$1.1 billion of tax revenue and 180,000 jobs for them.
- These four years have seen expanded financial connectivity. Financing bottleneck is a key challenge to realizing connectivity. China has engaged in multiple forms of financial cooperation with countries and organizations involved in the Belt and Road Initiative. The Asian Infrastructure Investment Bank has provided US$1.7 billion of loans for 9 projects in Belt and Road participating countries. The Silk Road Fund has made US$4 billion of investment, and the 16+1 financial holding company between China and Central and Eastern European countries has been inaugurated. With distinctive focus, these new financial mechanisms and traditional multilateral financial institutions such as the World Bank complement each other. A multi-tiered Belt and Road financial cooperation network has taken an initial shape.
- These four years have seen strengthened people-to-people connectivity. Friendship, which derives from close contact between the people, holds the key to sound state-to-state relations. Guided by the Silk Road spirit, we the Belt and Road Initiative participating countries have pulled our efforts to build the educational Silk Road and the health Silk Road, and carried out cooperation in science, education, culture, health and people-to-people exchange. Such cooperation has helped lay a solid popular and social foundation for pursuing the Belt and Road Initiative. Every year, the Chinese government provides 10,000 government scholarships to the relevant countries. China's local governments have also set up special Silk Road scholarships to encourage international cultural and educational exchanges. Projects of people-to-people cooperation such as Silk Road culture year, tourism year, art festival, film and TV project, seminar and think tank dialogue are flourishing. These interactions have brought our people increasingly closer.
These fruitful outcomes show that the Belt and Road Initiative responds to the trend of the times, conforms to the law of development, and meets the people's interests. It surely has broad prospects.
Ladies and Gentlemen,
Dear Friends,
As we often say in China, "The beginning is the most difficult part." A solid first step has been taken in pursuing the Belt and Road Initiative. We should build on the sound momentum generated to steer the Belt and Road Initiative toward greater success. In pursuing this endeavor, we should be guided by the following principles:


First, we should build the Belt and Road into a road for peace. The ancient silk routes thrived in times of peace, but lost vigor in times of war. The pursuit of the Belt and Road Initiative requires a peaceful and stable environment. We should foster a new type of international relations featuring win-win cooperation; and we should forge partnerships of dialogue with no confrontation and of friendship rather than alliance. All countries should respect each other's sovereignty, dignity and territorial integrity, each other's development paths and social systems, and each other's core interests and major concerns.
Some regions along the ancient Silk Road used to be a land of milk and honey. Yet today, these places are often associated with conflict, turbulence, crisis and challenge. Such state of affairs should not be allowed to continue. We should foster the vision of common, comprehensive, cooperative and sustainable security, and create a security environment built and shared by all. We should work to resolve hotspot issues through political means, and promote mediation in the spirit of justice. We should intensify counter-terrorism efforts, address both its symptoms and root causes, and strive to eradicate poverty, backwardness and social injustice.
Second, we should build the Belt and Road into a road of prosperity. Development holds the master key to solving all problems. In pursuing the Belt and Road Initiative, we should focus on the fundamental issue of development, release the growth potential of various countries and achieve economic integration and interconnected development and deliver benefits to all.


Industries are the foundation of economy. We should deepen industrial cooperation so that industrial development plans of different countries will complement and reinforce each other. Focus should be put on launching major projects. We should strengthen international cooperation on production capacity and equipment manufacturing, and seize new development opportunities presented by the new industrial revolution to foster new businesses and maintain dynamic growth.
Finance is the lifeblood of modern economy. Only when the blood circulates smoothly can one grow. We should establish a stable and sustainable financial safeguard system that keeps risks under control, create new models of investment and financing, encourage greater cooperation between government and private capital and build a diversified financing system and a multi-tiered capital market. We should also develop inclusive finance and improve financial services networks.
Infrastructure connectivity is the foundation of development through cooperation. We should promote land, maritime, air and cyberspace connectivity, concentrate our efforts on key passageways, cities and projects and connect networks of highways, railways and sea ports. The goal of building six major economic corridors under the Belt and Road Initiative has been set, and we should endeavor to meet it. We need to seize opportunities presented by the new round of change in energy mix and the revolution in energy technologies to develop global energy interconnection and achieve green and low-carbon development. We should improve trans-regional logistics network and promote connectivity of policies, rules and standards so as to provide institutional safeguards for enhancing connectivity.
Third, we should build the Belt and Road into a road of opening up. Opening up brings progress while isolation results in backwardness. For a country, opening up is like the struggle of a chrysalis breaking free from its cacoon. There will be short-term pains, but such pains will create a new life. The Belt and Road Initiative should be an open one that will achieve both economic growth and balanced development.
We should build an open platform of cooperation and uphold and grow an open world economy. We should jointly create an environment that will facilitate opening up and development, establish a fair, equitable and transparent system of international trade and investment rules and boost the orderly flow of production factors, efficient resources allocation and full market integration. We welcome efforts made by other countries to grow open economies based on their national conditions, participate in global governance and provide public goods. Together, we can build a broad community of shared interests.
Trade is an important engine driving growth. We should embrace the outside world with an open mind, uphold the multilateral trading regime, advance the building of free trade areas and promote liberalization and facilitation of trade and investment. Of course, we should also focus on resolving issues such as imbalances in development, difficulties in governance, digital divide and income disparity and make economic globalization open, inclusive, balanced and beneficial to all.
Fourth, we should build the Belt and Road into a road of innovation. Innovation is an important force powering development. The Belt and Road Initiative is new by nature and we need to encourage innovation in pursuing this initiative.
We should pursue innovation-driven development and intensify cooperation in frontier areas such as digital economy, artificial intelligence, nanotechnology and quantum computing, and advance the development of big data, cloud computing and smart cities so as to turn them into a digital silk road of the 21st century. We should spur the full integration of science and technology into industries and finance, improve the environment for innovation and pool resources for innovation. We should create space and build workshops for young people of various countries to cultivate entrepreneurship in this age of the internet and help realize their dreams.
We should pursue the new vision of green development and a way of life and work that is green, low-carbon, circular and sustainable. Efforts should be made to strengthen cooperation in ecological and environmental protection and build a sound ecosystem so as to realize the goals set by the 2030 Agenda for Sustainable Development.
Fifth, we should build the Belt and Road into a road connecting different civilizations. In pursuing the Belt and Road Initiative, we should ensure that when it comes to different civilizations, exchange will replace estrangement, mutual learning will replace clashes, and coexistence will replace a sense of superiority. This will boost mutual understanding, mutual respect and mutual trust among different countries.
We should establish a multi-tiered mechanism for cultural and people-to-people exchanges, build more cooperation platforms and open more cooperation channels. Educational cooperation should be boosted, more exchange students should be encouraged and the performance of cooperatively run schools should be enhanced. Think tanks should play a better role and efforts should be made to establish think tank networks and partnerships. In the cultural, sports and health sectors, new cooperation models should be created to facilitate projects with concrete benefits. Historical and cultural heritage should be fully tapped to jointly develop tourist products and protect heritage in ways that preserve the distinctive features of the Silk Road. We should strengthen exchanges between parliaments, political parties and non-governmental organizations of different countries as well as between women, youths and people with disabilities with a view to achieving inclusive development. We should also strengthen international counter-corruption cooperation so that the Belt and Road will be a road with high ethical standards.
Ladies and Gentlemen,
Dear Friends,
China has reached a new starting point in its development endeavors. Guided by the vision of innovative, coordinated, green, open and inclusive development, we will adapt to and steer the new normal of economic development and seize opportunities it presents. We will actively promote supply-side structural reform to achieve sustainable development, inject strong impetus into the Belt and Road Initiative and create new opportunities for global development.
- China will enhance friendship and cooperation with all countries involved in the Belt and Road Initiative on the basis of the Five Principles of Peaceful Co-existence. We are ready to share practices of development with other countries, but we have no intention to interfere in other countries' internal affairs, export our own social system and model of development, or impose our own will on others. In pursuing the Belt and Road Initiative, we will not resort to outdated geopolitical maneuvering. What we hope to achieve is a new model of win-win cooperation. We have no intention to form a small group detrimental to stability, what we hope to create is a big family of harmonious co-existence.
- China has reached practical cooperation agreements with many countries on pursuing the Belt and Road Initiative. These agreements cover not only projects of hardware connectivity, like transport, infrastructure and energy, but also software connectivity, involving telecommunications, customs and quarantine inspection. The agreements also include plans and projects for cooperation in economy and trade, industry, e-commerce, marine and green economy. The Chinese railway authorities will sign agreements with their counterparts of related countries to deepen cooperation on China-Europe regular railway cargo service. We will work to launch these cooperation projects at an early date and see that they deliver early benefits.
- China will scale up financing support for the Belt and Road Initiative by contributing an additional RMB 100 billion to the Silk Road Fund, and we encourage financial institutions to conduct overseas RMB fund business with an estimated amount of about RMB 300 billion. The China Development Bank and the Export-Import Bank of China will set up special lending schemes respectively worth RMB 250 billion equivalent and RMB 130 billion equivalent to support Belt and Road cooperation on infrastructure, industrial capacity and financing. We will also work with the AIIB, the BRICS New Development Bank, the World Bank and other multilateral development institutions to support Belt and Road related projects. We will work with other parties concerned to jointly formulate guidelines for financing the Belt and Road related development projects.
- China will endeavor to build a win-win business partnership with other countries participating in the Belt and Road Initiative, enhance trade and investment facilitation with them, and build a Belt and Road free trade network. These efforts are designed to promote growth both in our respective regions and globally. During this forum, China will sign business and trade cooperation agreements with over 30 countries and enter into consultation on free trade agreements with related countries. China will host the China International Import Expo starting from 2018.


China will enhance cooperation on innovation with other countries. We will launch the Belt and Road Science, Technology and Innovation Cooperation Action Plan, which consists of the Science and Technology People-to-People Exchange Initiative, the Joint Laboratory Initiative, the Science Park Cooperation Initiative and the Technology Transfer Initiative. In the coming five years, we will offer 2,500 short-term research visits to China for young foreign scientists, train 5,000 foreign scientists, engineers and managers, and set up 50 joint laboratories. We will set up a big data service platform on ecological and environmental protection. We propose the establishment of an international coalition for green development on the Belt and Road, and we will provide support to related countries in adapting to climate change.
- In the coming three years, China will provide assistance worth RMB 60 billion to developing countries and international organizations participating in the Belt and Road Initiative to launch more projects to improve people's well-being. We will provide emergency food aid worth RMB 2 billion to developing countries along the Belt and Road and make an additional contribution of US$1 billion to the Assistance Fund for South-South Cooperation. China will launch 100 "happy home" projects, 100 poverty alleviation projects and 100 health care and rehabilitation projects in countries along the Belt and Road. China will provide relevant international organizations with US$1 billion to implement cooperation projects that will benefit the countries along the Belt and Road.
- China will put in place the following mechanisms to boost Belt and Road cooperation: a liaison office for the Forum's follow-up activities, the Research Center for the Belt and Road Financial and Economic Development, the Facilitating Center for Building the Belt and Road, the Multilateral Development Financial Cooperation Center in cooperation with multilateral development banks, and an IMF-China Capacity Building Center. We will also develop a network for cooperation among the NGOs in countries along the Belt and Road as well as new people-to-people exchange platforms such as a Belt and Road news alliance and a music education alliance.
The Belt and Road Initiative is rooted in the ancient Silk Road. It focuses on the Asian, European and African continents, but is also open to all other countries. All countries, from either Asia, Europe, Africa or the Americas, can be international cooperation partners of the Belt and Road Initiative. The pursuit of this initiative is based on extensive consultation and its benefits will be shared by us all.
Ladies and Gentlemen,
Dear Friends,
An ancient Chinese saying goes, "A long journey can be covered only by taking one step at a time". Similarly, there is an Arab proverb which says that the Pyramid was built by piling one stone on another. In Europe, there is also the saying that "Rome wasn't built in a day." The Belt and Road Initiative is a great undertaking which requires dedicated efforts. Let us pursue this initiative step by step and deliver outcome one by one. By doing so, we will bring true benefit to both the world and all our people!
In conclusion, I wish the Belt and Road Forum for International Cooperation a full success!
Thank you!
Cuts to China's Import Tariffs to Buoy Fashion and Cosmetics
BOF November 28, 2017
Import taxes on almost 200 consumer goods categories, including fashion and cosmetics, are to be slashed in a bid to encourage more domestic spending.
BEIJING, China — China's new plan to slash import tariffs on a wide range of consumer goods promises to boost the prospects of multinationals in the Chinese market, with everything from cashmere to beauty products becoming more affordable to local consumers.
The new policy, which takes effect on December 1, will include hefty cuts to tariffs on 187 imported consumer product categories including fashion and cosmetics. The tax for scarves and cashmere products will fall to 5 percent from 14 percent. Silk items will be 10 percent from 20 percent. Cosmetics, including lipsticks and eye makeup, will be 5 percent instead of 10 percent. On average, the tax rate across consumer goods will drop to 7.7 percent from 17.3 percent.
"People's consumption demands are ever increasing. [The tariff cuts] will help upgrade the domestic supply system," read a statement issued by China's Ministry of Finance, citing the need to help shoppers access quality and specialist products that aren't widely available locally. At the 19th Communist Party Congress that took place in October, Chinese president Xi Jinping said his government was focused on "the people's ever-growing needs for a better life" and aimed to improve living standards in the world's largest consumer market.
High taxes have traditionally pushed up the price of foreign fashion and luxury brands in China, causing consumers to spend less at home and more on trips overseas. This has also led to the rise of grey market "daigou" shopping agents, who purchase goods overseas and sell them back to customers in China, typically making a profit and saving the customer money by circumventing import duties.
"The biggest driver fuelling daigou is the price difference between imported luxury goods in China and luxury goods sold overseas. Lower import duties on luxury items will make the price difference less significant for customers, therefore the whole business will be less lucrative for agents," said Alice Wong, president of ImagineX Group, a management and distribution group in China that represents luxury brands including Marc Jacobs and Salvatore Ferragamo. Some experts say the tax cuts will help the government curb such practices.
The import tariffs will open the domestic Chinese market to more international brands — which will be able to reduce their retail price in China.
For foreign brands, the move will surely prove a boon. "The import tariffs will open the domestic Chinese market to more international brands — which will be able to reduce their retail price in China. At the same time, this will bring more competition to local Chinese brands and will force them to up their ante," said Luca Solca, head of luxury goods at Exane BNP Paribas. "Consumer brands are the ones to gain the most. The implication for the luxury and fashion sector is that the trend towards local consumption rising faster than purchases abroad will continue," he added.
Certainly, increasing domestic consumption is important for the world's second largest economy as it shifts away from an investment and export-led growth model. Domestic consumption contributed 65.4 percent of GDP in the first three quarters of 2017, according to the National Bureau of Statistics.
"High-end brands typically import their products from Europe and North America, and are therefore more reliant on imports than local competitors and fast-fashion brands like H&M, which have a significant manufacturing presence in China," explained Nainika Singh, consumer analyst at BMI Research. "Luxury brands with operations in China, such as Prada, Versace and those under the control of LVMH, stand to gain a lot from the tariff reduction on apparel."
BMI forecasts that clothing and footwear spend in China will grow strongly by an average of 9.5 percent from 2017 to 2021, from 1,845 billion RMB ($271 billion) to 2,662 billion RMB ($385 billion).
The move is also thought to be a signal to the world, especially the US, that China is opening up its economy. "One could see this as an olive branch that China is extending to the White House — among other things," said Solca. Indeed, Trump has long complained of unfair trade practices in China and wants to reduce America's deficit with the country.
The cuts "will help," said Shane Oliver, head of investment strategy at AMP Capital Investors. "But the main driver of the trade imbalance is that the US spends more than it earns globally, and China does the opposite. Until this ends, the US will remain in deficit." "The cut is not so much to rebalance trade, but a strategic move to reduce the likelihood of a trade war with the US, which accounted for 18.9 percent of China's total exports from January to September 2017," added BMI analyst Josh Holmes.
For now, "increasing domestic consumption and improving the well-being of its citizens is a long-term goal of the Chinese leadership," Solca noted, and foreign brands stand to benefit the most as China's growing middle-class consumers continue to prioritise not just buying more, but also buying better.
China to cut tariffs on consumer goods
Xinhua 2017-11-24
BEIJING -- China will further reduce tariffs on consumer goods, including food and infant formula, in the third cut since 2015.
Effective next month, the average import tax on some food, health products, medicine, daily chemicals, clothing, footwear, and other products will drop to 7.7 percent from 17.3 percent, the Ministry of Finance (MOF) said Friday in an online statement.
Some types of baby milk powder and diapers will have zero tariffs, according to an MOF list. Woolen overcoats and some seafood will also see substantial drops in tax rates.
A total of 187 products will be covered.
The statement said the reduction focuses on quality and certain products that cannot be produced at home, allowing for more consumer choice and prompt upgrades of the domestic supply system.
The government has been encouraging imports of consumer goods to meet increasing domestic demand.
Tariffs of nearly 300 types of articles of everyday use have gone down during the past two years. Fiscal and financial measures have also been rolled out to stimulate imports.
Xi's remarks at Session I of APEC Economic Leaders' Meeting
Source: Xinhua 2017-11-11
DA NANG, Vietnam, Nov. 11 (Xinhua) -- Chinese President Xi Jinping delivered a speech titled "Working Together for a New Chapter of Win-Win Cooperation in the Asia-Pacific" here Saturday at the first session of the 25th Asia-Pacific Economic Cooperation (APEC) Economic Leaders' Meeting.
"Working Together for a New Chapter of Win-Win Cooperation in the Asia-Pacific"
Remarks by H.E. Xi Jinping
President of the People's Republic of China
At Session I of the APEC Economic Leaders' Meeting
Da Nang, 11 November 2017
President Tran Dai Quang,
Dear Colleagues,
I wish to thank President Tran Dai Quang and the Vietnamese government for their thoughtful arrangements. Vietnam was hit by Typhoon Damrey a few days ago, resulting in heavy casualties and economic losses. On behalf of the Chinese government and people, let me express my deep sympathy to those affected by the typhoon.
Three years ago on this day, we discussed in Beijing the blueprint for Asia-Pacific cooperation. The Chinese people believe that three years is a good time to take stock of what one has achieved. In the past three years, the world economy has gradually rebounded, showing strong momentum of recovery since the outbreak of the international financial crisis. People in all sectors are gaining more confidence.
Those who recognize the trend are wise and those who ride the trend will win. We need to take note of the profound changes taking place in the world economy. At yesterday's CEO Summit, I shared my thoughts on this subject. If Asia-Pacific economies seize the trend and take action, we can usher in a new round of development and prosperity for the world.
First, we need to promote innovation as a strong growth driver. Innovation is the most powerful lever for development. As new technologies emerge and the new industrial revolution gains momentum, we face a rare historic opportunity for innovation-driven development. We need to strive for both scientific and technological innovation and institutional innovation, build synergy between market and technology, and help bring to fruition new technologies, new business forms and models to fully unlock our development potential. This is why, in the context of APEC, we need to implement in real earnest the Roadmap on the Internet and Digital Economy we have drawn this year.
Innovation has proven to be essential to the emergence of new drivers for the Chinese economy in recent years. Thirty years ago, China's first email was sent from Beijing.
Today, China has 750 million Internet users, our on-line retail sales are growing by 30 percent a year, our "sharing economy" has reached 3.5 trillion yuan in size, and China's mobile payment transactions have exceeded 158 trillion yuan. This example shows that as long as we keep exploring, we will see more opportunities and successes of innovation-driven development.
Second, we need to open up our economies to create more space for development. History has taught us that closed-door development will get nowhere, while open development is the only right choice. We need to remain true to APEC's founding purpose: advance trade and investment liberalization and facilitation, build an open economy, uphold and strengthen the multilateral trading regime, and help rebalance economic globalization. We need to take determined steps toward a Free Trade Area of the Asia-Pacific in line with the agreed roadmap, and herald a new round of development in the Asia-Pacific in the course of opening up.
Next year will mark the 40th anniversary of China's reform and opening-up. In nearly four decades, China has opened its arms to embrace the world and achieved "leapfrog development" of itself in this process. Looking ahead, China will open still wider and its development will deliver even greater benefits to the rest of the world. Starting from next year, China will hold an International Import Expo. I am sure this new platform of mutually beneficial cooperation will help all parties to better share the opportunities of China's development.
Third, we need to pursue inclusive development to enhance our people's sense of fulfillment. Lack of inclusiveness in development is a problem facing many economies. We should redouble efforts to address this problem. To enable more people to share the benefits of development, efforts must be made to strike a better balance between fairness and efficiency, capital and labor, technology and employment. Greater attention must be paid to the impact of artificial intelligence and other technological advances on jobs. APEC members need to do a good job of implementing the Action Agenda on Inclusion formulated this year, and deepen cooperation on poverty reduction, micro, small and medium-sized enterprises (MSMEs), education, fighting corruption, urbanization and women's empowerment. All this will contribute to the well-being of the 2.8 billion people in the Asia-Pacific region.
China gives high priority to employment. We have worked to ensure that economic development is pursued in a way that supports job creation, encouraged business start-ups as a means to create more jobs, and paid particular attention to the employment of college graduates and other key groups. We have also provided the labor force with better education and training to tackle structural unemployment. In each of the past few years, we have created over 13 million new jobs in cities and towns. An important thing we have learnt from all this is that with better coordination and the right measures, economic restructuring does not have to come at the expense of employment. On the contrary, stable employment would allow greater leeway for reform and development.
Fourth, we need to enrich our partnerships and deliver benefits to all involved. As APEC economies, we have a stake in each other's success and our future is closely connected. With a shared future in mind, we need to develop a stronger sense of community, harmonize our policies and create synergy. We need to foster a spirit of harmony in diversity, draw on each other's strength, pursue mutually beneficial cooperation and draw on each other's best practice in development. We should consider the interests of others while pursuing those of our own, and reduce the adverse spillovers of our domestic policies. As we have agreed on the direction and framework of an Asia-Pacific partnership, it is time to take solid steps toward this goal.
China has put forward the Belt and Road Initiative and is pursuing it in a spirit of extensive consultation, joint contribution and shared benefits. This initiative is well received and supported by various parties. The successful and fruitful Belt and Road Forum for International Cooperation held in Beijing in May marked a new stage of full implementation. Going forward, China will deepen policy, infrastructure, trade, financial and people-to-people connectivity with our Asia-Pacific partners, seek interconnected development and move toward a community of shared future.
Dear Colleagues,
You may all have an interest in China's future development. Last month's 19th National Congress of the Communist Party of China was a great success. We laid out our development strategy and blueprint for the coming decades, keeping in mind that socialism with Chinese characteristics has entered a new era whose overriding goal is socialist modernization and national rejuvenation. We will continue to be guided by a philosophy of people-oriented development, resolve the issue of unbalanced and inadequate development and raise the quality and efficiency of growth to better meet our people's ever-growing needs for economic, political, cultural, social and ecological progress, promote all-round development of our people and facilitate social progress across the board. We will act on the new vision of development, comprehensively deepen reform, turn China into an innovation-driven country at a faster pace, break new ground in pursuing opening-up on all fronts and build a modern economic system.
I am convinced that a China that enjoys stronger growth and interacts more with the world and whose people have a greater sense of fulfillment will surely bring more opportunities and make greater contributions to the Asia-Pacific and the world at large.
Thank you
Xi calls for building a strong army
Source: Xinhua 2017-10-26
BEIJING, Oct. 26 (Xinhua) -- China's military should take solid steps toward a strong army as socialism with Chinese characteristics has entered a new era, said Xi Jinping, general secretary of the Central Committee of the Communist Party of China (CPC).
Xi made the remarks when meeting senior military officers in Beijing Thursday.
Xi, also Chinese president and chairman of the Central Military Commission (CMC), urged the army to remain true to its original aspiration and keep its mission firmly in mind.
He asked the army to learn and implement the spirit of the 19th CPC National Congress, following the road of building a strong army with Chinese characteristics and promoting the modernization of national defense and the army.
"We should strive to fully transform the people's armed forces into a world-class military by the mid-21st century," Xi said.
Xi said that during the past five years, the CMC has endeavored to build an army that follows the command of the CPC, is capable of winning battles and has a fine style of work.
It has been upholding the Party's absolute leadership over the armed forces, innovating military strategy, governing the army by law and promoting civil-military integration.
Xi praised the 19th CPC National Congress a success, saying that by the year 2020, mechanization will be basically achieved, and the modernization of the national defense and armed forces should be basically completed by 2035.
To study and implement the spirit of the congress is the primary task for the party, the country and the army at present and in the years to come, said Xi.
He urged military officers and soldiers to learn from the report of the congress as well as the Party's Constitution so as to better guide their work.
The President asked the members of the CMC, newly chosen at the first plenary session of the 19th CPC Central Committee, to be keenly aware of the trust bestowed by the Party and people and the expectations of all servicemen and women and spare no effort in their work.
Senior officers, as the backbone of the campaign to build a strong army, should be loyal and obedient to the Party, be good and smart at combat and endeavor to reform, Xi said.
They should be efficient in commanding their forces, strict in discipline and set an example by performing their duty with spirit and diligence, he said.
The armed forces should improve political education and combat training and push forwards all projects of the 13th five-year plan of military development, he said.
Military reform projects should not be delayed and the armed forces should be placed under strict discipline.
The armed forces are also urged to plan future work according to the guidelines of the 19th CPC National Congress.
China Focus: Confident Xi begins second term with ambitious promises for "new era"
Source: Xinhua 2017-10-25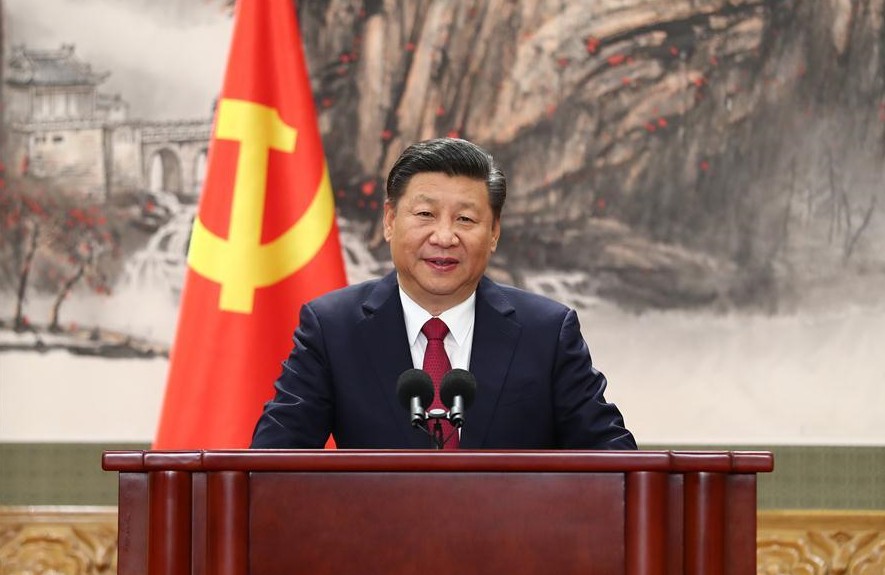 Xi Jinping, general secretary of the Central Committee of the Communist Party of China (CPC), speaks when meeting the press at the Great Hall of the People in Beijing, capital of China, Oct. 25, 2017. Xi Jinping and the other newly-elected members of the Standing Committee of the Political Bureau of the 19th CPC Central Committee Li Keqiang, Li Zhanshu, Wang Yang, Wang Huning, Zhao Leji and Han Zheng met the press on Wednesday. (Xinhua/Xie Huanchi)
BEIJING, Oct. 25 (Xinhua) - A dark suit, red tie and familiar air of confidence. Xi Jinping's first public appearance in his second term as helmsman of the world's largest political party brought back memories from five years ago when he first took over the leadership of the Party.
His ambitious roadmap and grand vision for the future, however, suggests a "new era" has dawned.
Addressing journalists shortly after the first plenary session of the 19th Communist Party of China (CPC) Central Committee elected the Political Bureau and its Standing Committee Wednesday morning, Xi described the next five years as a period of "important junctures and signposts."
"In this new context, we must get a new look and, more importantly, make new accomplishments," said Xi who was elected general secretary of the CPC Central Committee for his second term.
He said the world's second-largest economy would continue to deepen reform and open itself wider to the world in the next five years.
It will strive for sustainable economic growth, prosperity for all, while working with other nations to "build a global community with a shared future" to make "new and greater contributions to the noble cause of peace and development for all humanity."
"The CPC, meanwhile, will become a mighty and nationwide force driving China's development and progress, and rid itself of any virus that erodes the Party's fabric," he said.
"We should never entertain the idea of taking a breather or halting our steps," Xi told 1.3 billion Chinese in the televised address.
That sense of mission and resolve echoed Xi's words in November 2012.
Five years ago when Xi strode into the Great Hall of the People as the Party's top leader, he had inherited a slowing economy, widening wealth gap and widespread corruption.
To counter these problems, Xi promised a long list of "supply-side structural reform," including defusing the debt bomb and phasing out obsolete industry.
He has also launched the most thorough anti-corruption campaign in Chinese history, giving sharper teeth to the Party's discipline agency, and worked to upgrade the Party's governance of the country.
Xi's unparalleled determination and resolve paid off. Between 2013 and 2016, China's GDP expanded by an average annual rate of 7.2 percent, compared to 4 percent growth in developing economies, and just 2.5 percent for the world.
The number of people living in poverty dropped to 43.35 million at the end of 2016, from nearly 100 million at the end of 2012.
Overwhelming momentum has been gained in the fight against corruption, sweeping reform launched across the military, and China-led projects -- such as Belt and Road Initiative -- reflected in UN documents.
These "historical changes" have led many to ask the same question. What might China achieve next with Xi at the helm?
The next five years will be a critical time for the CPC, which boasts more than 89 million members, to realize the vision of China's development that Xi has set out.
China has set 2020 as the target year to finish building a moderately prosperous society in all respects -- or Xiaokang -- just one year before the CPC celebrates its 100th anniversary.
But Xi's impact on China's future may run much further than this.
Last week, Xi declared that Chinese socialism had entered a "new era" and spelled out a two-stage development plan for the country to become a "great modern socialist country" by the middle of the century.
China will build on the foundation created by the "moderately prosperous society" with another 15 years of hard work, to ensure that socialist modernization is "basically realized by 2035."
By the mid-21st century, China will become "a global leader in terms of composite national strength and international influence," Xi told more than 2,300 applauding delegates.
This means China has set a higher goal for about 30 years from now, and its modernization drive is picking up speed.
It also means for the first time in human history, over 1 billion people will be lifted into modernity at one time.
"With decades of hard work, socialism with Chinese characteristics has entered a new era," Xi told reporters Wednesday.
"The Chinese people should certainly take pride in the unprecedented progress the nation has made over the past several decades, which has raised living standards in China and in other countries as well," said Robert Daly, director of the Kissinger Institute on China and the United States at the Woodrow Wilson Center.
"China's rise fully justifies the announcement of a 'new era,' both for China and for the world," he said.
Smaller, low-calorie mooncakes popular as Chinese avoid extravagance, overweight
Xinhua 2017-10-05
This photo taken on Oct 2, 2017 shows mooncakes in Yichang, Hubei province. [Photo/IC]
HEFEI - Mid-Autumn Festival falls on Wednesday this year. For Chinese, the day may not be complete without eating a mooncake with family while gazing at the full moon.
However, mooncakes are high in sugar and fat, not ideal for anyone wanting to loose weight. One mooncake can have over 450 calories - the equivalent of about three bowls of rice.
To find balance between treating yourself and maintaining good health, many brands have started selling smaller mooncakes this year.
Traditionally, a mooncake weighs about 120 to 150 grams, but in the online store of Daoxiangcun, a traditional Beijing-based brand, the biggest mooncake on sale is just 110 grams. Most of its mooncakes are below 85 grams and cost about seven to 10 yuan each (about $1 to $1.5).
"We can try more flavors if the cakes are smaller," said a Beijing customer.
THINNER OUTSIDE
Not only is the size of the mooncakes decreasing, but the packaging is also "shrinking."
About a decade ago, mooncakes were seen as luxury items. Their packaging was like that of high-end jewelry, some even had jade embedded on the boxes. Many were sold together with expensive liquors.
Expensive gift boxes of the small round pastries with, in most cases, sweet filling, became associated with corruption, subtle bribery and extravagance as companies and individuals exchanged them with customers and business partners to build relationships.
In 2005 and 2008 respectively, the central government issued two documents, prohibiting overpackaging of mooncakes. The documents demanded the packaging of the cakes be no more than three layers, and should make up less than 12 percent of the total price.
Five years after the Chinese government established a frugality code rejecting extravagance and excessive formalities among Communist Party members and government workers, lavish mooncake gift sets began to disappear from the market. Mooncakes started to return to their origin as an affordable dessert for family gatherings.
Statistics from Suning.com, an e-commerce platform, showed that the sales volume of mooncake gift sets priced from 200 to 300 yuan ($30 to $45) declined by 17 percent this year, while that for cheaper mooncakes surged by 25 percent.
JD.com, another leading e-commerce company, said that its sales volume of luxury mooncake sets is down 75 percent from last year, while that of regular boxes rose by 21 percent.
At Guangzhou Friendship Store, a salesperson said that many customers prefer to buy mooncakes in bulk, which costs much less than purchasing gift sets.
Wang Fen from Qiaojiashan Bakery, the largest mooncake producer in Jiangxi Province, said that upscale mooncake gift sets priced over 300 yuan contributed less than one percent of their total sales this year.
"As mooncakes are no longer public expenses, there is no market for luxury mooncake gift sets," said Xu Hang from Tianjin-based Nankai University.
RICHER INSIDE
Less packaging has not stopped mooncakes filling from becoming richer and diversified. Creative, sometimes unconventional, flavors have appeared in recent years to woo curious young customers.
This year, some brands are selling mooncakes that contain crawfish, pickled Chinese cabbage with bullfrog, or beef with Chinese chili pepper.
Quanjude Fangshan Food Company, a subsidiary of the famous peking duck company China Quanjude Group, put 35 different mooncake sets on the market this year, with duck-meat mooncakes costing 86 yuan per box, according to marketing supervisor Tian Wenhua.
Even home-made mooncakes from a hospital canteen in southwest China's Guizhou Province have attracted huge crowds -- delivery services are waiting at the canteen door to collect freshly-baked mooncakes for passionate food-lovers.
Apart from traditional brands such as Beijing's Daoxiangcun, Xinghualou in Shanghai, and Zhiweiguan in Hangzhou, a Hong Kong brand, Meixin, has won the hearts of young Chinese with its signature salted egg custard mooncakes. Foreign companies, including Oreo, Starbucks and Haagen-Dazs, have also joined the market with their unique mooncake flavors.
Industry insiders said the domestic mooncake market has been in doldrums during the past two years. Major mooncake makers must change their product strategy to supply more high quality and affordable mooncakes in order to sustain their business.
Healthier mooncakes are also gaining popularity. Those that use xylitol instead of sugar are enjoyed by people with diabetes, and many bakeries have started accepting orders to tailor-make mooncakes for customers.
A graduate of Shanghai Jiao Tong University, ordered a box of mooncakes with the school emblem pressed into the mold. Mr. Liu in Hefei, capital of east China's Anhui Province, ordered buckwheat mooncakes for his father who suffers from hyperglycemia.
"Our life is getting richer and more colorful, just like the diverse flavors of the mooncakes," said Liu.
Extra lunar month gives mooncake sales a boost
China Daily 2017-09-25
A worker displays Disney-themed mooncakes at a store in Shanghai earlier this month. Tang Yanjun/China News Service
There are two back-to-back months of June this year-a quirk of a leap year in the Chinese lunar calendar-bringing Shanghai its hottest summer since the city started recording weather 140 years ago. The double Junes have also propelled residents to a five-year record for the number of mooncakes consumed.
The mooncake industry-traditionally dominated by gift buyers-has experienced a 20 percent sales decline nationally each year since 2013, when the central government introduced an anti-corruption measure. That law strictly bans the use of public money to buy the pastries or other gifts considered luxuries, such as Moutai, the specialty baijiu liquor.
Thanks to the double Junes, which postpones Mid-Autumn Festival-the primary season for mooncake-eating-by a month to Oct 4 this year, sales of mooncakes in Shanghai are likely to be back on track with significant growth. Projections by the Shanghai Confectionery Industry Association place the increase at 15 percent.
The city is expected to consume 22,000 metric tons of mooncakes this year.lu
"On one hand, the late festival is giving consumers more time to buy and enjoy the pastry; on the other, restaurants and bakeries are taking advantage of the occasion to develop diversified products to boost sales and make up for the massive losses since 2013," said Chen Fengwei, secretary-general of the association.
The association calculated that there are more than 200 types of mooncakes available this year, up from 150 last year.
Among the new offerings, more than two-thirds are the Su-style cakes-with flaky and crispy shells and savory fillings-baked to order at a low price. This means they are catering to the "real consumers", according to Chen.
By contrast, mooncakes for gifts are usually the sweet types that have a preservation date extending for months and are luxuriously packaged with liquor and sometimes even gold bars.
Zhang Wen, the manager of Shanghai First Food Mall, said the newly introduced mooncakes-with fried bullfrogs and pickles as fillings-have been so popular that they are usually sold out by noon. Because of the capacity of the kitchen, bakers manage to provide about 10,000 cakes per day, which makes them even more appealing.
"The new types are what get people back to our stores. And once they are coming, the traditional types, like pork-filled mooncakes, also sell better," Zhang said.
Chef Tang Chi-keun of the Michelin-starred Cantonese restaurant Yi Long Court at the Peninsula Hotel in Shanghai, said the mooncake scene in the city has been so competitive in recent years that even though the restaurant's pricey egg-custard mooncakes were barely affected by the anti-corruption law, his team has to keep introducing new offerings to keep up the momentum.
Even the most unlikely companies are joining the competition. Disney, for example, has introduced a variety of mooncakes themed around its cartoon characters, and a popular Chinese astrologer is partnering with the century-old Wufangzhai, which used to dominate the rice dumpling market for the Dragon Boat Festival, to launch a pack of 12 mooncakes centered on the zodiac.
Xi stresses integrated military, civilian development
Source: Xinhua| 2017-09-22
Video PlayerClose
BEIJING, Sept. 22 (Xinhua) -- Chinese President Xi Jinping on Friday called for stronger reform, innovation and resource integration to improve integrated military and civilian development.
Xi, also general secretary of the Communist Party of China Central Committee and chairman of the Central Military Commission, made the remarks while presiding over the second plenary session of the Central Commission for Integrated Military and Civilian Development, which he also heads.
The session adopted a plan for the development of defense science, technology and industry during the 13th five-year-plan period (2016-2020), and guidelines on advancing integrated military and civilian development in defense science, technology and industry.
Also adopted were guidelines on advancing highly integrated military and civilian development in military logistics during the 13th five-year-plan period, and a draft regulation on management of economic projects that are closely related to national defense.
Defense science, technology and industry are key areas for integrated military and civilian development, and play a vital role in boosting the country's innovation-driven development and supply-side structural reform, according to a statement released after the meeting.
It stressed independent innovation to ensure China can independently produce core products and own key defense technologies.
The meeting called for reform in defense science, technology and industry to break institutional barriers and create a fair environment for competition.
The statement underscored that the military must give up the traditional mindset of building a closed logistics system.
It said that new technologies such as cloud computing, big data and the Internet of Things should be applied to make logistics more efficient.
The military must also use its advantage in storage, medical service and emergency rescue to serve the people, it said.
According to the statement, ensuring that major infrastructure projects shall meet defense requirement must be a priority in pursuing integrated military and civilian development.
It called for intensive research to draw up a reform plan for integrated military and civilian development.
Li Keqiang, Liu Yunshan and Zhang Gaoli, who are all members of the Standing Committee of the Political Bureau of the CPC Central Committee and deputy heads of the commission, attended the meeting.
Chinese investment brings jobs to Wales
ChinaDaily 2017-09-22
Employees polish a freshly painted black TX4 Euro 5 London taxi cab in the paint shop at the London Taxi Company's assembly plant, a unit of Zhejiang Geely Holding Co, in Coventry, the United Kingdom. [Photo/Agencies]
Components for the new hybrid London black cab, designed by Chinese automaker Geely, will be manufactured at a factory in the United Kingdom.
The decision will create 130 jobs in Bedwas, Wales, which was transformed from a village into a coal mining town in the 19th century. The last mines closed in 1984 and Bedwas has since tried to attract light industry to compensate for the loss of jobs.
The London Electric Vehicle Co, or LEVC, which is owned by Geely, makes London black cabs and launched its new zero-emissions-capable TX model this year.
LEVC confirmed that Sapa Components UK, a subsidiary of Norwegian manufacturer Sapa, will build body parts for its European fleet.
Sapa will invest 9.6 million pounds ($13 million) on reopening its Bedwas plant, which was closed in 2014.
The factory will make aluminum panels for the TX chassis, which will then be bonded at Geely's factory in Coventry, England. Aluminum is much lighter than steel, and aluminum vehicles are more fuel-efficient.
Sapa indicated that support from the Welsh government, including 550,000 pounds in funding, helped it select the Bedwas site over another European facility.
"The opening will create a range of new job opportunities and give a new lease of life to the area," said Welsh First Minister Carwyn Jones.
The deal will bring the estimated 130 new jobs to Caerphilly county, where Bedwas is located, during the next five years.
Hangzhou-based Geely acquired LEVC, formerly the London Taxi Co, in 2013 for 11 million pounds and has so far invested 325 million pounds in the business, including a 300 million pound facility in Coventrywhere the TX is assembled.
UK legislation stipulates that from Jan 1 all new Londonblack cabs will need to be battery-powered.
LEVC is accepting orders from Londondrivers and will deliver 225 hybrid cabs to Dutch firm RMC at the start of next year under the first European export deal for the vehicles.
Geely plans to roll out the TX in Chinese cities in the coming years and is constructing a factory in Chinato manufacture the vehicle.
Chinese FM urges UN to play guiding role in global governance
Source: Xinhua| 2017-09-22
Video PlayerClose
UNITED NATIONS, Sept. 22 (Xinhua) -- Chinese Foreign Minister Wang Yi said Thursday that the United Nations (UN) should play a guiding role in promoting better global governance.
Wang made the remarks during his speech at the General Debate of the 72nd session of the UN General Assembly.
The United Nations is at the core of the modern international institutions, and it should promote democratization, rule of law and rationalization in international relations, he said.
The minister also said that all of the United Nation's 193 members, big or small, rich or poor, should be equal, adding that they should enjoy equal rights, opportunities and rules in international affairs.
He also urged all UN member states to jointly make international rules, handle global affairs, and share the fruits of development, adding that the United Nations also needs to constantly improve its system and mechanisms so as to better represent the interests of most countries and better reflect the changes in the international situation.
The United Nations should make sure that international laws are enforced in a comprehensive and accurate fashion, and that the foundations for these laws and the world order are firm, said Wang.
On globalization, Wang said the United Nations should try to promote the rebalancing of globalization in a direction that is open, inclusive, balanced and all-win.
Also in his speech, Wang called on the United Nations to be a promoter of international development.
He urged the UN member states to synergize the 2030 Agenda for Sustainable Development with their respective development strategies to eradicate hunger and poverty.
All member states should ensure fair, inclusive and quality education so that people can enjoy a lifetime of learning opportunities, said Wang, adding that the United Nations should enhance its role as a major channel for stronger North-South cooperation, and strengthen South-South cooperation at the same time.
On climate change, Wang said the United Nations should continue to follow up regarding the implementation of the Paris Agreement reached in 2015, and call on all parties to follow the principle of common but differentiated responsibility and to deepen international cooperation in addressing climate challenge.
Speaking on the refugee problem, Wang maintained that the root causes for the refugee problem are regional instability and unbalanced development.
He said the United Nations should deal with humanitarian emergencies and help related countries and regions to achieve development simultaneously.
Wang also said that global economic recovery and growth are still a daunting task. The United Nations should encourage all parties to promote trade and investment liberalization and facilitation to build an open world economy.
He also suggested that the world should seize the opportunities presented by a new round of scientific and technological revolution.
Regarding world peace, Wang called on the United Nations to be the world's peacekeeper.
"Maintaining peace and security is the core aim of the UN Charter and the top priority of the UN," he said, adding that the United Nations should promote security which is common, comprehensive, cooperative and sustainable.
"The five permanent members of the United Nations Security Council should take a leading role and follow the principle of no conflicts and no confrontation, mutual respect and win-win cooperation. The UN members should treat each other as equals, pursue dialogue rather than confrontation, and forge partnerships instead of alliances," he added.
To better fight terrorism, Wang said the United Nations needs a comprehensive strategy as well as efforts to address both symptoms and root causes, avoid double standards, and should not label terrorism as being associated with specific ethnic groups or religions.
To solve hot-spot issues, political means are the fundamental solution. The United Nations should play the role of the main channel to prevent conflicts, Wang said.
Wang also urged the United Nations to be a communicator among different human civilizations, saying that each civilization should seek common ground while reserving differences and learning from each other.
He said all nations should be encouraged and respected when they choose development paths that fit their respective conditions, adding that countries with different systems and paths should respect and learn from each other for common progress.
The United Nations should be a stage for countries of different systems to get along harmoniously, and act as a bridge for communication and dialogue, Wang said.
Wang said that two years ago, right at this podium, Chinese President Xi Jinping called for building a new type of international relations with win-win cooperation at the core, and put forward his vision of building a community of shared future for mankind.
Both are major concepts by the Chinese president based on his understanding of the global trend, Wang said, adding that the two proposals are highly compatible with the pursuit of the UN members and have received widespread support from the international community.
Chair's Statement of the Dialogue of Emerging Market and Developing Countries
Xinhua | Updated: 2017-09-06
On 5 September 2017, the Dialogue of Emerging Market and Developing Countries took place on the margins of the BRICS Xiamen Summit. It was chaired by President Xi Jinping of the People's Republic of China and attended by President Michel Temer of the Federative Republic of Brazil, President Vladimir Putin of the Russian Federation, Prime Minister Narendra Modi of the Republic of India, President Jacob Zuma of the Republic of South Africa, President Abdel Fattah al-Sisi of the Arab Republic of Egypt, President Alpha Conde of the Republic of Guinea, President Enrique Pena Nieto of the United Mexican States, President Emomali Rahmon of the Republic of Tajikistan and Prime Minister Prayut Chan-o-cha of the Kingdom of Thailand.
Under the theme "Strengthening Mutually-Beneficial Cooperation for Common Development", the Leaders had in-depth discussions and reached extensive consensus on implementing the 2030 Agenda for Sustainable Development and building broad partnerships for development, the major points of which are summarized as follows:
The Leaders pointed out that emerging market and developing countries have actively explored development paths suited to their respective national conditions and made remarkable achievements over the past decades. Particularly in recent years, these countries have maintained sound momentum of steady development, serving as important engines of global economic growth and making important contribution to the common development of all countries and the improvement of global governance.
As the world economy is undergoing profound adjustment and transformation, emerging market and developing countries face both opportunities and challenges. On the one hand, peace, development and win-win cooperation remain the trend of the times, and the world economy has shown signs of mild recovery. On the other hand, serious challenges persist, such as weak growth drivers, inadequate global governance and development imbalances, as well as worrying trends of rising protectionism and growing backlash against globalization. It is necessary for emerging market and developing countries to strengthen solidarity and cooperation so as to safeguard their common interests and create a favorable external environment for development.
The Leaders appreciated the efforts made in recent years by BRICS countries in pursuing dialogue and cooperation with other emerging market and developing countries in a spirit of openness, inclusiveness and win-win cooperation. They welcomed and expressed support for the "BRICS Plus" cooperation proposed by China, which provides important opportunities for cooperation among emerging market and developing countries, and helps strengthen South-South cooperation and international development cooperation and build broader partnerships for fair, open, all-round and innovative development.
Stressing that the 2030 Agenda for Sustainable Development offers a new blueprint for international development cooperation, the Leaders believed that its full implementation will be of important immediate and long-term significance to peace and development around the world and to the pursuit of a community of shared future for mankind. The international community needs to translate political commitments into concrete actions in real earnest, and jointly embark on a path toward innovative, coordinated, green, open, shared and sustainable development.
It is important for all countries to shoulder their primary responsibility for the implementation of the 2030 Agenda for Sustainable Development and integrate it into their national development strategies, so as to boost endogenous drivers for development and promote coordinated development in all three dimensions -- economic, social and environmental, and to create an enabling policy environment for national development and international development cooperation. Priorities should be given to poverty eradication, growth promotion and job creation to ensure that everyone share in the benefits of development. Developed countries should fully honor their Official Development Assistance (ODA) commitments and increase support for developing countries.
Emerging market and developing countries need to expand cooperation including South-South cooperation, strengthen macroeconomic policy coordination, synergize development strategies, and intensify cooperation in fields such as infrastructure connectivity, industrialization, IT application, urbanization and agricultural modernization, so as to achieve common development and gain strength through solidarity. The Leaders welcomed the efforts by China and other Dialogue participants to provide support for developing countries through the Assistance Fund for South-South Cooperation.
Climate change is a common challenge confronting the international community. It is important to uphold the principles of the United Nations Framework Convention on Climate Change including the principles of equity, common but differentiated responsibilities and respective capabilities, in the light of different national circumstances, and to fully implement the Paris Agreement. Developed countries should provide more financial, technical and capacity building support to developing countries.
Global economic governance should keep abreast with the times and the representation and voices of emerging market and developing countries should be enhanced under the principles of extensive consultation, joint contribution and shared benefits. All countries need to be committed to foster an open economy, uphold the multilateral trading regime and its fundamental principles, oppose protectionism, and jointly work for a successful 11th WTO ministerial conference to make economic globalization more open, inclusive and beneficial to all.
It is important for all countries to support the United Nations in playing a central role in international development cooperation and in conducting necessary reform to its development system. This reform should center on promoting development, prioritize poverty eradication, remain membership-driven, extensively seek views of developing countries and respond to their concerns. Meanwhile, the reform should help enhance UN's efficiency and capabilities in coordinating the implementation of the 2030 Agenda for Sustainable Development, strengthen coordination and complementarity among all bodies within the UN system and mobilize more resources for development.
Xi open to mending fences with Seoul
China Daily | Updated: 2017-08-25
But Beijing warns ROK leader that THAAD could be a stumbling block
President Xi Jinping said on Thursday that he is ready to make concerted efforts with President Moon Jae-in of the Republic of Korea to properly address the differences between the two countries.
Xi made the remark as he and Moon exchanged congratulatory messages on the 25th anniversary of the establishment of diplomatic relations between the two nations.
Seoul's ties with Beijing have been frustrated the past year over the deployment of the US Terminal High-Altitude Area Defense antimissile system in the ROK.
The exchange of messages was made "as routine", Foreign Ministry spokeswoman Hua Chunying said on Thursday, adding Seoul should have a look back at the lessons of the past 25 years.
She said it is hoped that Seoul will "face squarely China's major concerns and take constructive actions to properly tackle the relevant sensitive issue".
China's position opposing the deployment of the missile system is "very clear, firm and consistent" and "there is not any change" to it, she said.
According to a release from the ROK Ministry of Foreign Affairs, Moon took note in his message to Xi of the "significant development" in bilateral relations since 1992.
Moon said the development is the result of the governments and peoples of the two countries regarding their efforts to enhance mutual understanding and trust.
Qiu Guohong, Chinese ambassador to the ROK, told a public diplomacy forum this month that the THAAD issue has been the "largest disturbance" facing the two countries since the forge of ties.
Chen Zhu, vice-chairman of the National People's Congress (NPC) Standing Committee, said at a celebration of the anniversary in Beijing on Wednesday that China is willing to work with the ROK to stay true to their original aspirations, reinforce mutual trust, properly handle disagreements and push the ties back on the track of steady and healthy development.
Ruan Zongze, vice-president of the China Institute of International Studies, warned that Seoul should "have a clear understanding" of the greater damage of ties if it fails to meet Beijing halfway on the THAAD issue.
The bilateral strategic partnership was built on trust with long-term efforts and the partnership is being undermined by Seoul's irresponsible moves on the THAAD issue, Ruan said.
Jiang Yuechun, a researcher on world economy and East Asia affairs at the CIIS, said the THAAD issue has affected the tourism, automobile and cosmetics businesses in the ROK.
Xi wants "capable, brave and virtuous" armymen "with soul"
Xinhua| 2017-08-01
BEIJING, Aug. 1 (Xinhua) -- Chinese President Xi Jinping on Tuesday called for a new generation of "capable, brave and virtuous" armymen "with soul" in order to build a strong military.
Calling political work the "lifeline" of the People's Liberation Army (PLA), Xi said the PLA must have ironclad faith, beliefs, discipline and responsibility, and retain its nature and goal as the people's army.
He also called on the PLA to strengthen itself through reform, develop itself with science and technology, and govern itself according to law in order to further modernize China's national defense and its military in an all-round manner.
Xi, also general secretary of the Communist Party of China Central Committee and chairman of the Central Military Commission, made the remarks while addressing a grand gathering in celebration of the 90th founding anniversary of the PLA.
The army must unswervingly deepen national defense and military reform, and tackle institutional barriers, structural contradictions and policy issues that constrain national defense and army building, Xi said.
The PLA must improve and further develop the socialist military system with Chinese characteristics, and step up efforts to build a modern military force system with Chinese characteristics that is capable of winning information-based warfare and efficiently carrying out the military's due missions and tasks, he said.
The strategy of developing the army with science and technology should be fully implemented, Xi added, calling on the PLA to stick to the strategic base point of independent innovation.
The army should accelerate development of strategic, frontier and disruptive technologies in order to allow science and technology to play a bigger role in the PLA's capacity building and the advancement of its military capability.
It should also enhance the awareness of rule of law throughout the PLA, step up efforts to build a military legal system with Chinese characteristics, and speed up a fundamental transformation of the military governance system, Xi said.
Innovation helps desert tourism flourish in Inner Mongolia
China Daily : 2017-08-04
Photo taken on Aug 6, 2015 shows people visiting Xiangshawan Desert in Ordos, North China's Inner Mongolia autonomous region. [Photo/Xinhua]
Residents in desert areas in northern China's Inner Mongolia autonomous region have shaken off poverty and embarked on much better-off lives, after desert tourism driven by innovation was brought in.
The Kubuqi Desert in Ordos, the seventh-largest in China with an area of 18,600 square kilometers, was once the source of frequent sandstorms hitting the country's northern areas.
The desert's harsh environment resulted in poverty for local residents, most of whom only lived on raising livestock.
In the past 30 years, great efforts were made to tackle the desertification and improve residents' living standards.
Then, an innovative business model that incorporates governments, companies and locals was introduced with the aim of greening the region and creating jobs.
With guidance of governments and investment by the companies, farmers and herdsmen started to plant herbs, build solar power stations and develop tourist facilities.
In 2006, local governments and Elion Resources Group-a company engaged in ecological environmental protection-invested in building a new village.
Doodgatsaa village gathered 36 scattered households and provided them with free training, after which villagers started to run their own businesses.
"In the past, we lived in shabby houses built with dry grass and mud," said Tserenbaabuu, a 41-year-old herdsman in the village.
Tserenbaabuu and his family now live in a 110-square-meter house.
He added their total income has increased to 200,000 yuan ($30,300), 10 times as much as in the past when raising livestock was the only source of earnings.
It is the prospering of tourism in the region, he says, that has changed their lives.
A national 4A tourist site-Qixinghu Desert Eco-tourism Spot-emerged, as developers began tapping desert tourism resources. It attracts more than 120,000 tourists annually.
The site helped boost tourism in nearby villages, including Doodgatsaa village which has been equipped with 32 home-style hotels.
In partnership with two herdsmen, Tserenbaabuu bought 20 vehicles for off-road driving in the desert, with the help of banks in Ordos.
"A vehicle can hold three tourists, and traveling across the desert will cost each of them 240 yuan," he said.
He also hired 10 villagers as drivers and pays 4,000 yuan to each monthly from May to October, the peak season for desert tourism.
To support the business, he constructed a family hotel that can hold 20 tourists, accompanied by a restaurant to serve meals.
"When the hotel is full at peak season, I can earn 2,000 yuan each day," he said.
A household like his can earn 120,000 yuan annually on average, up from around 10,000 yuan before 2006.
"It's really a great change for me," Tserenbaabuu said.
China has total desert area of more than 2.6 million square kilometers, according to the sixth Kubuqi International Desert Forum held last week.
The experiences accumulated in the Kubuqi Desert can be a model to share nationwide and worldwide, said attendees at the forum.
First China-U.S. Comprehensive Economic Dialogue sees some positive outcomes
Source: Xinhua| 2017-07-21
Video PlayerClose
WASHINGTON, July 21 (Xinhua) -- The first China-U.S. Comprehensive Economic Dialogue (CED) saw the world's two largest economies resolve a number of issues in their trade relationship while agreeing to work together to solve outstanding problems.
China and the United Statesdiscussed a one-year action plan for economic cooperation during the dialogue, which concluded on Wednesday, and agreed to cooperate in areas such as finance, trade, investment and global economic governance.
The two sides also agreed to address the trade imbalance between the two countries, highlighting the willingness to expand trade cooperation in services, in civilian high-tech sectors and in agriculture.
Given the difference in size between Chinaand the United Statesin the services industry, it remains possible for both sides to exploit their own comparative advantages and complement each other, a Chinese delegate said Thursday in a statement, noting that "expanding bilateral trade in services can also promote balanced trading relations between the two sides."
"Despite a huge deficit in services trade with the United States, Chinanevertheless believed that trade in services between Chinaand the United Statesis mutually beneficial," the statement said.
David Dollar, a senior fellow at the Brookings Institution, and former official with the U.S. Treasury Department, believed a high-quality U.S.-China bilateral investment treaty would help U.S.export its services to Chinaand build a foundation for a better bilateral trading relationship.
On the CED, the two countries agreed to create a more open investment environment in their respective territories.
There are growing calls from the U.S.and Chinese business communities to sign the investment treaty as soon as possible, Chinese Vice Finance Minister Zhu Guangyao said Wednesday.
The two countries also pledged to relax export controls and protect intellectual property rights.
"If the United States were to liberalize its export barriers against China to the same level as those applicable to Brazil or France, the U.S. trade deficit with China would narrow by up to 24 percent and 34 percent respectively," Chinese Vice Premier Wang Yang quoted an article published by the Carnegie Endowment for International Peace when delivering a speech at a China-U.S. business luncheon on Tuesday in Washington.
On agriculture, the two countries have reached an agreement on inspection and quarantine protocols for U.S.rice exports to China, said the statement.
According to an announcement by the U.S. Department of Agriculture, U.S. rice exports to Chinacan begin following the completion of an audit of U.S.rice facilities by China's General Administration of Quality Supervision, Inspection and Quarantine. It will be the first time for the United Statesto export rice to China, said the department.
China and the United States exchanged views on issues such as the removal of the ban on Chinese and U.S.poultry products on a reciprocal basis and the export of China's dairy products and aquatic products to the United States.
The CED is one of the four major dialogues established by the two countries in April during the Mar-a-Lago meeting between Chinese President Xi Jinpingand his U.S.counterpart Donald Trump.
Top Chinese leaders visit military exhibition
Source: Xinhua| 2017-07-21
Video PlayerClose
Chinese President Xi Jinping and other top Chinese leaders visit a major exhibition marking the 90th anniversary of the founding of the People's Liberation Army (PLA) at the Military Museumof the Chinese People's Revolution in Beijing, capital of China, July 21, 2017. Senior leaders Li Keqiang, Zhang Dejiang, Yu Zhengsheng, Liu Yunshan, Wang Qishan and Zhang Gaoli, also visited the exhibition. (Xinhua/Ma Zhancheng)
BEIJING, July 21 (Xinhua) -- Top Chinese leaders, including President Xi Jinping, on Friday visited a major exhibition marking the 90th anniversary of the founding of the People's Liberation Army (PLA).
Xi, also general secretary of the Communist Party of China (CPC) Central Committee and chairman of the Central Military Commission, called for unremitting efforts to build the army into a world-class military.
Senior leaders Li Keqiang, Zhang Dejiang, Yu Zhengsheng, Liu Yunshan, Wang Qishan and Zhang Gaoli, also visited the exhibition at the Military Museumof the Chinese People's Revolution.
Xi hailed outstanding feats made by the army under the leadership of the CPC in the past 90 years for national independence, people's liberation, national prosperity and people's happiness.
"We should remember the glorious history, inherit the red gene, and advance the great cause initiated by the older generations of revolutionaries from a new starting point," he said.
The president encouraged people to strengthen their confidence in the path, theory, system and culture of socialism with Chinese characteristics, and strive for the Chinese dream of national rejuvenation.
Addressing the opening ceremony of the exhibition Friday morning, Liu Yunshan said the exhibition aimed to make good use of history as a textbook, while calling on people to rally closely around the CPC Central Committee with Comrade Xi Jinping as the core.
The exhibition features major PLA battles, historical events, decision-making processes and achievements throughout its 90-year history.
Models of the PLA's major military equipment in active service are exhibited, while interactive subjects that simulate the drills are also available.
More than 1,000 photos and 1,300 relics, as well as paintings, military gear and other items are on display.
The items include photos of China's first aircraft carrier Liaoning in training in the South China Sea, models of China's first hydrogen bomb and first air-drop atomic bomb.
Aug. 1 marks the PLA's 90th anniversary.
Xi calls for public security forces to be loyal to CPC
Source: Xinhua 2017-05-19
Chinese President Xi Jinping, also general secretary of the Central Committee of the Communist Party of China (CPC), Chinese Premier Li Keqiang and Liu Yunshan, a member of the Standing Committee of the Political Bureau of the CPC Central Committee, meet with heroes and role models from public security departments across the country at the Great Hall of the People in Beijing, capital of China, May 19, 2017. (Xinhua/Ju Peng)
BEIJING, May 19 (Xinhua) -- Chinese President Xi Jinping met with heroes and role models from public security departments across the country on Friday, stressing loyalty to the Communist Party of China (CPC).
Xi, also general secretary of the CPC Central Committee, called for those working in the country's public security departments to serve the people, promote impartiality in law enforcement, and remain disciplined.
Premier Li Keqiang and Liu Yunshan, a member of the Standing Committee of the Political Bureau of the CPC Central Committee, also joined the meeting.
Xi said that the heroes and role models are not only models for the public security system, but also the whole of society.
Hailing the public security forces as a team with a glorious tradition and excellent work, Xi said they have made remarkable contributions in safeguarding national security and social stability.
They have forged an "indestructible iron wall" for national security, public security and the safety of people's lives and property, with their sweat, and even blood and lives, the president said.
Xi said he was deeply moved by stories of public security officers risking their lives when carrying out missions, adding that he also felt sorrow for those who lost their lives during missions.
The great spirit of heroes and role models should be carried forward in the entire country in cultivating and practicing the socialist core values, said Xi.
Xi called on public security forces to devote their utmost efforts to safeguarding national security and social stability, so as to meet the public needs and create a safe and stable social environment for the upcoming 19th National Congress of the CPC later this year.
CPC committees and governments at various levels were also urged to support public security forces and take care of police officers.
A total of 615 public security units and 1,320 individuals were honored at Friday's meeting.
China is about to hold a giant meeting on spending billions to reshape the world
Wednesday, 10 May 2017
CNBC.com
China has rapidly climbed the ranks to become the world's second-largest economy. Now, the most populous nation on the planet wants to increase its influence by digging further into its pockets — flush with cash after decades of rapid growth — to splash out with its "One Belt, One Road" policy.
The initiative is meant to connect Asia, Europe, the Middle East and Africa to bolster trade and development. This weekend, hordes of foreign diplomats and business leaders are expected to descend on Beijing for a two-day meeting about the policy.
Here's what you need to know:
What is "One Belt, One Road?"
President Xi Jinping first announced the policy in 2013; it was later named one of China's three major national strategies, and morphed into an entire chapter in the current five-year plan, to run through 2020.
The plan aims to connect Asia, Europe, the Middle East and Africa with a vast logistics and transport network, using roads, ports, railway tracks, pipelines, airports, transnational electric grids and even fiber optic lines. The scheme involves 65 countries, which together account for one-third of global GDP and 60 percent of the world's population, or 4.5 billion people, according to Oxford Economics.
Why does China want to do this?
This is part of China's push to increase global clout — building modern infrastructure can attract more investment and trade along the "One Belt, One Road" route. It could be beneficial for western China, which is less developed, as it links up with neighboring countries. And in the long run, it will help China shore up access to energy resources.
The policy could boost the domestic economy with demand abroad, and might also soak up some of the overcapacity in China's heavy industry, but analysts say these are fringe benefits.
Experts say China has an opportunity to step into a global leadership role, one that the U.S. previously filled and may now be abandoning, especially after President Donald Trump pulled out of a major trade deal, the Trans-Pacific Partnership.
It's clear China wants to wield greater influence — Xi's speech in January at the World Economic Forum in Davos touted the benefits of globalization, and called for international cooperation. And an article by Premier Li Keqiang published shortly after also called for economic openness.
But despite all the talk of global connectivity, skeptics highlight that China still restricts foreign investment, censorship continues to be an issue and concerns remain over human rights.
How much is China spending?
Most of the funding is coming via China's policy and commercial banks, though there is no official data on OBOR projects and spending estimates vary.
In 2015, the China Development Bank said it had reserved $890 billion for more than 900 projects. The Export-Import Bank of China announced early last year that it had started financing over 1,000 projects. The China-led Asian Infrastructure Investment Bank is also providing financing.
China's big four state-owned banks are estimated to have extended $90 billion in loans to OBOR countries in 2016, according to analysis by Oxford Economics. And Credit Suisse estimates China could invest as much as $500 billion in about 60 countries over the next five years.
The assumption is that these countries will be able to pay China back, and that lenders will know how to manage credit risk. This means the obvious challenge is that if these projects fail to deliver as expected, bad debts could create a strain. But the leaks may not spring for a while, as infrastructure projects tend to have a long lead time.
What OBOR projects have already launched?
Plenty have launched thus far, including a 418-kilometer rail link with Laos, and a collection of infrastructure projects totaling $46 billion, named the China-Pakistan Economic Corridor. A freight train service is linking China and Europe. And China and France are jointly developing the $24 billion Hinkley Point nuclear power plant in the U.K.
In reality, however, reports abound of delays and confusion. There are worries over due diligence — making sure the money is being well-spent — which is tough to track in other countries and remains a potent domestic challenge despite China's anti-corruption crackdown.
China's state-owned enterprises and private companies have long invested abroad. In some ways, experts at research firm IHS say the OBOR initiative is simply smart branding for what China was already doing. At the same time, this is Beijing using its political might — China announcing with a bullhorn its support for investment abroad could help grease the wheels to get deals and contracts through faster.
Who benefits?
Much of the projects heavily involve China's state-owned enterprises, from oil & gas companies to railway construction — think oil firm Sinopec, rail car manufacturer CRRC and utilities like State Grid. Analysts say foreign construction machinery companies are also poised to benefit.
Other major foreign companies including General Electric and Siemens have made clear they're targeting participation in OBOR projects.
In the long run, "OBOR could boost internationalization of the renminbi by encouraging its use in both trade and financial transactions," wrote Tianjie He of Oxford Economics.
Industries see opportunities in Xi's proposal
China Daily | 2017-04-14
Terrence Curtin, CEO of TE Connectivity.
We understand the Belt and Road Initiative's significance in promoting economic growth and regional cooperation, and we appreciate the tremendous efforts China has put into this gigantic project.
We regard the many infrastructure projects proposed under the framework of this initiative as enhancing connectivity across Asia, Europe and Africa. This presents a large opportunity for TE, as we are well positioned to offer our unparalleled connectivity and sensing technologies and products in the energy infrastructure, ICT (information and communication technologies) infrastructure, railway links and many other sectors.
We are also encouraged by the China's welcome attitude to foreign participation into this project. As the Belt and Road forum will gather many world leaders to discuss the road map forward in Beijing, I believe companies like TE will have more opportunities to participate in the initiative and contribute to its success.
Shen Difan, general manager of AliExpress
The Belt and Road Initiative is conducive to lower trade barrier, address trade imbalances and enhance economic interdependence. While globalization benefits large multinational corporations, the Belt and Road Initiative aims to unlock the potential of SMEs by enhancing connectivity, and e-commerce is a critical channel to reach that goal.
AliExpress aims to serve 1 billion users globally within seven years and build a "cyber Silk Road" following the initiative. This will be achieved via collaboration on cross-border payment, express delivery and local partnership.
Ondrej Frydrych, CEO of Home Credit China.
The Belt and Road Initiative has built a broad international platform for both China and economies on the routes and also generated strong momentum of economic growth in the countries, which not only further enhances the opening up of China but also provides tremendous opportunities for Chinese companies, especially those in service and manufacturing sectors, to "go global".
As a long-term player in Chinese market, Home Credit not only devotes itself to the development of local consumer finance industry, but also supports to promote the Belt and Road Initiative implementation and the globalization of our Chinese partners. We provide them with consumer finance solution which covers the entire process of loans, consumption, payment and credit system construction, so as to help them exploit Southeast Asia and other emerging markets rapidly. The collaboration is showing good results, and the initiative has brought even more opportunities in those markets and offered a platform where we could better integrate mutual resources.
Jan Rinnert, chairman of Heraeus.
The Belt and Road Initiative is an encouraging and visionary initiative. Today's it's more focused on physical infrastructure investment, with substantial financial systems in place such as the Asian Infrastructure Investment Bank as the cornerstone. In the future it will lead to cultural and people-to-people exchanges.
The initiative would require extra efforts and coordination among public-private partnership, something that Europe can share some experiences with China.
The initiative will lend new momentum for the company's growth. Actually Heraeus has already been doing business in countries along the route. In the future, we look forward to the digital and data infrastructure building under the Initiative where there is a larger role for us to play.
Jose Vinals, chairman of Standard Chartered Plc.
The Belt and Road Initiative is the most important single initiative that exists and it is fostering cross-border integration in terms of infrastructure, cross-border investment and international trade. China is championing the initiative, which is very fundamental.
We are very strategically supporting this initiative, because we think it's very important for all the countries we serve in Asia, Middle East and Africa. The initiative, by enhancing infrastructure that allows the countries to be connected, therefore promoting investment and trade, is a major factor to support growth, development and the prosperity of those countries.
Standard Chartered last year participated in 40 deals related with the initiative. For example, we have supported Chinese governments to develop water power plants in Pakistan and Bangladesh.
China's outbound investment spike set to ease
Chinadaily | 2017-04-14
Huanghua Port in North China's Hebeiprovince. China's economy grew 6.7 percent year on year in 2016. [Photo/Xinhua]
China's outbound investment is expected to "steadily slow down", as companies further strengthen their risk management capabilities to improve investment quality, according to professional services firm EY.
Such projection comes as the year 2016 marked another record year for the country, with Chinese companies concluding 622 outbound merger and acquisition (M&A) deals, totaling $221.7 billion.
"Chinese investors' footprint is spreading across five continents, focusing on not only 'going out' but also upgrading businesses to higher end of the value chain," said Loletta Chow, global leader of EY's China Overseas Investment Network, at a news conference on Thursday.
Technology, media and telecommunications (TMT), agriculture, power and utilities were the most attractive sectors for Chinese investors, accounting nearly 54 percent of the total, according to statistics compiled by EY.
Last year also saw local firms gain prominence in the global arena, taking up 87 percent of the total non-financial outbound direct investments.
Among all concerns, stability of tax policies and industry entry barriers receive the highest attention, said EY citing the result of a survey conducted in regions that see most active outbound investments.
Despite general acknowledgement on the importance of due diligence, companies should stress further, Chow said. "Some treat it just as a formalistic, routine procedure, but regret doing so later when problems are revealed."
The prudence comes coinciding with regulators' effort to step up supervision and curb "irrational" outbound investments.
EY expects the country's going global drive will remain unchanged in the long run, while companies will keep a strong momentum in investing high-tech, new energy and high-end industrial sectors, it said in the report.
Reforms unleash vitality of China's SOEs
Xinhua : 2017-04-14
BEIJING - China's State-owned enterprises (SOEs), the backbone of the country's economy, have shown fresh vitality as reforms to these companies gradually bear results.
In the first quarter, the combined net profits of China's centrally administered state-owned enterprises (SOEs) soared 26.5 percent to 226.42 billion yuan ($33 billion), the latest data showed.
Of 102 central SOEs, 99 saw profits in the first three months, with 81 companies collecting more profits than a year ago. Forty-three saw profit increases of more than 10 percent, according to a report released Thursday by the State-owned Assets Supervision and Administration Commission (SASAC).
"The rising profits signal recovery of the overall economy, and they also show that supply-side reform has generated favorable outcomes," said Shen Ying, chief accountant of SASAC.
Overcapacity, poor corporate governance, and low labor productivity had dragged down profits of China's SOEs, which deteriorated in 2015.
Realizing the significance of SOEs to the country's sustainable growth, Chinalaunched a series of reforms including restructuring the companies, cutting excessive layers of hierarchy, and calling for innovation among these firms.
Last year, China's central SOEs cut 2,730 subsidiary legal entities and saved 4.91 billion yuan in management costs, according to SASAC.
The first quarter results showed the increased efficiency of many SOEs. Cost per 100 yuan of revenue decreased 0.1 yuan for central SOEs, while productivity per worker increased 9.2 percent. Per capita profit surged 23.5 percent, reflecting more efficient use of human resources.
While traditional sectors such as oil and coal also reported rising earnings, most notable were the increasing contributions by new sectors such as electronic equipment and medical services, said Li Jin, chief researcher with the China Enterprise Research Institute.
An improved structure with more diverse sources of profits should help shape a sustainable growth pattern, Li said.
In a government work report delivered by Premier Li Keqiang in March, Chinapledged to deepen SOE reform in 2017, promising measures such as introducing a mixed-ownership system and more efforts to make SOEs leaner,healthier, and perform better.
So far, a total of 19 SOEs in industries ranging from electrical services to civil aviation are experimenting with the so-called mixed-ownership scheme, which allows private or even foreign investment into particular companies.
Telecom giant China Unicom, for example, is expected to incorporate private shareholders including local Internet giants via a secondary public offering.
The mixed-ownership scheme will improve the efficiency of state-owned firms, while offering opportunities to the private sector, said Peng Jianguo, secretary-general of a government-run think tank on central SOEs.
"The first quarter results proved that state-owned companies need to become more market-oriented to enhance their performance," Peng said.
While the overall growth prospects for SOEs remain promising, experts are concerned about uncertainties coming from trade frictions and exchange rate volatility, along with rising costs of reforms.
"Taking into account all these factors, we see both opportunities and challenges for SOEs, "said Shen Ying. "The growth momentum will likely continue, but may be at a slower pace."
Authorities have targeted a 3-percent year on year profit growth for central SOEs, up from 0.5 percent last year.
More internal stimulus measures such as stock ownership incentives need to be in place to further unleash the vitality of SOEs, said Li Jin.
Alibaba Turns eWTP Into Reality With Creation of FirstOverseas E-hub
The e-hub as part of Malaysia's Digital Free Trade Zone will be established via public-private partnership
March 22, 2017 Eastern Daylight Time
KUALA LUMPUR, Malaysia - (BUSINESS WIRE) - Alibaba Group announced today the establishment of an e-hub under the Electronic World Trade Platform (eWTP) initiative together with the Malaysia Digital Economy Corporation (MDEC), the country's digital economy development agency, and other parties. This marks a key milestone in the realization of the eWTP's vision to lower trade barriers and provide more equitable access to global markets for small and medium enterprises and young people around the world.
The Prime Minister of Malaysia Dato' Sri Mohd Najib Tun Abdul Razak, and Alibaba Group's Executive Chairman, Jack Ma, attended the launch ceremony in Kuala Lumpur and witnessed the exchange of four Memoranda of Understanding covering a host of areas. These include the establishment of an e-fulfilment hub near the Kuala Lumpur International Airport, a one-stop online cross-border trading services platform, cooperation in e-payment and financing, and development of e-talent training that will fit into Malaysia's roadmap of transformation into a digital economy.
Dato' Sri Mohd Najib Tun Abdul Razak, the Prime Minister of Malaysia, said, "We have set out plans to progress Malaysia's economy and place it firmly at the centre of the global marketplace. To do this we need to harness the assets that we have and provide the support for individuals and businesses to be competitive in the new digital landscape. Alibaba Group is at the forefront of private sector development of e-commerce solutions and their ambitions to enable trade, particularly for SMEs, make them the perfect partner in this new initiative. This is an exciting development for the country, and to be an early participant in eWTP will provide a plethora of opportunities for Malaysian organizations."
Alibaba Group Executive Chairman, Jack Ma said, "I laid out the vision for eWTP last year, and we as a company have taken on the responsibility to make this a reality. The first e-hub under the eWTP outside of China will go a long way towards making global trade more inclusive and provide much needed support to a hugely important constituent: SMEs and the younger generation. With innovation throughout the supply chain, support from governments and important private sector collaborations, we will achieve our aim of enabling SMEs and young people to thrive and enjoy in the fruits of the next phase of globalization."
Jack Ma proposed the establishment of digital free trade zones for small businesses while attending the St. Petersburg International Economic Forum in Russia last June, suggesting that such special trading areas can act as ecommerce hubs linking up markets around the world.
As part of Malaysia's DFTZ initiative, the e-hub will provide new commercial opportunities on the established trade route with the country. As more trading routes are covered with new hubs that reflect the needs of the firms participating in the modern economy, a digital global e-road will be created. Alibaba has already played a key role in the establishment of the China (Hangzhou) Cross-Border E-Commerce Comprehensive Pilot Free Trade Area which will be connected to the DFTZ in Kuala Lumpur.
The eWTP's e-hub concept has been incorporated into Malaysia's DFTZ which will see the involvement of Alibaba, its subsidiaries and affiliates such as Lazada and Cainiao Network primarily in four areas:
· E-fulfilment hub: A logistics hub situated in close proximity to Kuala Lumpur International Airport that will function as a centralized customs clearance, warehousing and fulfilment facility for Malaysia and the region, to deliver faster clearance for imports and exports;
· E-service platform: Connected to Alibaba's OneTouch platform, it will link Malaysia directly to the e-commerce pilot area in Hangzhou, China to enable SMEs and businesses to trade conveniently and efficiently between the two countries;
· E-payment and financing: Relevant parties from both sides will explore e-payment and financing opportunities with a particular focus on facilitating B2B trade for Malaysian SMEs;
· E-talent development: The parties will establish training programs to help incubate startups and develop skillsets in individuals in support of Malaysia's digital economy development.
As part of its stated national agenda, the Malaysian Government wishes to create a fulfilment and logistics centre for global marketplaces, increase internet economy-related innovation and boost inward investment. This aligns closely with the commitment of the eWTP and given the strong historical trade ties between China and Malaysia, makes it a natural match for a DFTZ powered by Alibaba Group.
The MOUs signed today respectively between Alibaba Group and MDEC; Alibaba's logistic affiliate Cainiao Network and Malaysia Airports Holdings Berhad (MAHB); and Ant Financial and two of Malaysia's largest banks CIMB and Maybank, show the power of public-private partnerships that can provide effective end-to-end solutions. Taken together these agreements offer a blueprint for expansion of the hub connections as part of the eWTP in the future.
Among the proposed co-operations, Cainiao and Lazada will lead other Alibaba's subsidiaries and affiliates to work with MAHB for the development of a regional e-commerce and logistics hub in the KLIA Aeropolis as part of the DFTZ. The initial phase is currently expected to roll out before the end of 2017 by Alibaba, Cainiao, Lazada and Pos Malaysia, leading to the planned formal launch by the end of 2019.
Alibaba Cloud, the cloud computing arm of Alibaba Group, will also build a cloud platform in Malaysia to help local SMEs to succeed in the digital age through technology such as big data and Internet of Things (IoT). In order to provide support for startups, Alibaba Cloud will provide the Alibaba Cloud Certified Professional ("ACP") certification program to train the local talents and support internet-related ecosystem in Malaysia.
Ant Financial and CIMB and Maybank will explore collaboration opportunities in e-payment and financing services in Malaysia, with an initial focus on inbound Chinese tourism and promoting trade by Malaysian SMEs.
The eWTP initiative was proposed by Jack Ma and accepted as a major policy recommendation of the Business 20 (B20) and officially included in the 2016 G20 Leaders' Communique. It seeks to remove barriers to trade for smaller firms and emerging nations, supporting them in realizing their full economic potential and ensuring that they can also enjoy the benefits of global commerce. eWTP seeks to fundamentally change international trade through cost reductions, shortened supply chains and increased efficiencies, complementing the work of the WTO.
About Alibaba Group
Alibaba Group's mission is to make it easy to do business anywhere. The company aims to build the future infrastructure of commerce. It envisions that its customers will meet, work and live at Alibaba, and that it will be a company that lasts at least 102 years.
Product Safety Scandals in ChinaFuel Cross-Border Ecommerce
Growth rates expected to remain in double digits through 2019
March 31, 2017 | Retail & Ecommerce
Interest in quality imported products in China has never been higher. eMarketer estimates cross-border retail ecommerce sales in the country will climb 29.1% in 2017 to $110.68 billion. Growth rates are expected to stay in the double digits through 2019, and sales will reach $157.70 billion by 2020.
One of the categories driving cross-border ecommerce in China in recent years has been health and wellness products. Because of environmental pollution and a number of food safety scandals that have rocked the country recently, consumers in Chinahave developed an inherent suspicion of local food supplies.
That distrust spiked once again last week, after safety inspectors seized shrimp that had been injected with gelatin to make them look more appealing, resulting in an outcry on social media in China.
Data on cross-border ecommerce reflects the concerns of wary shoppers in China. For example, a December 2015 survey of cross-border digital buyers in China conducted by China Internet Network Information Center (CNNIC) found that milk powder and baby products, along with health and wellness products, ranked among the top four product categories purchased from foreign sites.
Australia, which has a reputation for making healthy and natural products, has been a major beneficiary of this demand. Australia-based health product companies like supplement manufacturer Nature's Way are looking to tap into China's hunger for safely produced foreign goods. The company recently established a direct sales store on the cross-border platform of JD.com, JD Worldwide.
Using China-based ecommerce platforms like JD.com represents a better way for foreign retailers to reach consumers in China. A recent survey of consumers in Chinaby Mintel found that 73% of respondents shopped for foreign imported products on domestic sites, compared with just 27% who used overseas-based retail sites.
Some brands in Australiahave found a route outside of ecommerce platforms to get their products in the hands of consumers in Chinaby tapping the network of personal shoppers known as "daigou," who purchase goods in Australia for resale in China.
Alibaba this month even went so far as to send seven marketing influencers in Chinato Australiato promote the country's products, with the whole trip documented on social media platforms like Weibo and Youku Tudou.
Australia isn't even the top seller of goods to consumers in China. According to Alibaba and CBNData, Australia accounted for just 7.9% of foreign sales to digital buyers in Chinaon its Tmall marketplace in 2016, behind Japan(19.3%), the US (18.3%), South Korea (13.6%) and Germany (8.0%).
US policies expected to impact China-US ties positively: NPC spokesperson
Chinadaily Updated: 2017-03-04
Despite policy adjustments in the US under the Trump administration, the two phone calls made between presidents of China and the US have sent a clear signal - Beijing and Washington want more cooperation, said Fu Ying, spokeswoman for the coming annual meeting of national legislators.
Fu said US policy moves under the new government will impact relations with China, while Beijing expects the impact to be "positive".
"But for sure, China will face and handle it if there is any challenge," she said.
Fu said there have been quite a few exchanges between high-level officials from both sides.
"The two phone calls between President Xi Jinping and President Trump have sent clear information - China and the US want more cooperation and to become good partners," she said.
Xi and Trump made a phone call on Nov 14 last year after Trump was elected. The two heads of state made another phone call on Feb 10.
The spokesperson, a former vice-foreign minister, said she found that US society does not know much about China.
"In this round of US general elections, every candidate talked about China, but I found they were talking about old stories of China, or stories that are not genuine," Fu said, adding it is difficult to find articles written by Chinese in the US.
She said it is abnormal in a society with a continuous flow of information.
China will make more efforts to bring more information on the country to the US and the whole world, Fu said, adding she expected foreign journalists reporting on the two sessions to continue writing about China.
China to raise defense budget by about 7 percent
Chinadaily : 2017-03-04
National People's Congress spokeswoman Fu Ying speaking at a news conference in Beijing, March 4, 2017. [Photo by Feng Yongbin/China Daily]
Chinawill increase its defense budget by around seven percent in the fiscal year of 2017, and the overall military spending will account for about 1.3 percent in GDP, said Fu Ying, spokeswoman for the coming annual meeting of national legislators.
Fu said these figures were decided by the Chinese government based on economic conditions and national defense requirements.
She made these remarks in response to questions from the United States' Cable News Network on China's defense expenditures and whether it has something to do with the sharp rise in the military budget of the US.
The nation's defense budget in the fiscal year of 2016 was set at 954.3 billion yuan, or $146 billion based on the exchange rate in March last year, a year-on-year increase of 7.6 percent. The increase in the fiscal year of 2015 was 10.1 percent.
Fu said there is no need for other countries to take caution against China's defense measures because the nation has never caused any harm to others. The spokeswoman said China's improvement of its defense capabilities is in the interest of regional peace and security.
"We always resort to dialogue to peacefully resolve disputes over territorial sovereignty and maritime interests. In the meantime, we must be capable of safeguarding our sovereignty and interests… We should be prepared for intervention from outside forces," she told reporters.
Fu said the Chinese military's "strategic intention" is to maintain common security with other nations.
She also noted that the international community is not as concerned about "navigation security" in the South China Sea as the US has claimed and the US's objectives and moves would affect future development in this area.
80-year-old woman stays active rowing boat for 30 years
Ecns | 2017-03-02
A woman surnamed Huang rows a boat in Qiaogang town, Beihai city, South China's Guangxi Zhuang autonomous region, Feb 28, 2017. Huang, 80, returned to Chinafrom Vietnamabout 40 years ago, and has been working on boats for 30 years. Although now with a family spanning four generations and despite most boats today being engine-powered, she still rows her boat to help transport fishermen and generate a small income. Huang said she is not used to sitting around and doing nothing and will keep rowing the boat as long as she can. [Photo/China News Service]
News Analysis: Trump's on-going war with media could hurt presidency: experts
Xinhua 2017-02-25 04:21:01
By Matthew Rusling
WASHINGTON, Feb. 24 (Xinhua) -- The war of words between U.S. President Donald Trump and the U.S. media has been raging on since he took office last month, which could hurt his presidency, experts said.
The billionaire-turned president has received more media coverage, much of it being negative, than any other president in recent memory. Since its inauguration last month, the new administration has been under intense scrutiny by U.S. media, with many news outlets disapproving of Trump's actions in his first weeks in office.
Trump has over the months attacked U.S. media for putting out "fake news," citing that his administration is unfairly treated by the media.
The tsunami of negative coverage could hurt Trump as he pushes his policies, experts said.
The media pressure could hurt Trump, especially if he doesn't deliver on his promises to spark a major economic boost, they said.
"It is unparalleled in history the amount of coverage that has been given to President Trump and his administration both positive and negative," Dan Mahaffee, an analyst with the Center for the Study of the Presidency and Congress, told Xinhua.
The negative coverage has made it difficult for Trump to move in some areas where there was consensus for his policies -- tax reform, infrastructure -- though the slow movement on those policies also reflects the pace of Washington, Mahaffee said.
However, the negative coverage has also shored up support among Trump's base, as well as consolidating support among some conservatives, who see the negative coverage and begin to sympathize with some of the statements from the administration complaining about the media as the "opposition," Mahaffee said.
If Trump is able to accomplish outcomes that are widely beneficial, there may be more nuanced coverage from mass media. But in today's polarized political and media environment, the partisan coverage from these smaller, left-leaning and right-leaning outlets is likely to remain either negative or positive, Mahaffee said.
Darrell West, vice president and director of governance studies of the Brookings Institution, said that Trump has been experiencing a large amount of negative coverage because he ran a divisive campaign and did little to reach out to opponents.
When people are upset and protesting administrative policies, that leads to critical news coverage, which has hurt Trump by raising doubts about his administration and overall vision, West said.
Trump's election was very much a result of poor economic conditions in many forgotten parts of the country.
That means the success of Trump's presidency depends a great deal on his ability to boost the economy and bring back robust growth, which has been missing since the 2007-2008 economic nose dive.
While most prior recessions have seen the economy come roaring back, many have pointed to an avalanche of government regulations and taxes that have kept large and small businesses from hiring. Trump has been trying to cut the regulations and reduce taxes to create more jobs.
"If (Trump) raises the economy's growth above three percent, the way he promised, his poor start won't matter. People will cheer the economic success," West said, adding that otherwise it would undermine his claim of special expertise on economic issues.
Some experts said the negative media coverage has already hurt the new president, even a month into his presidency.
Christopher Galdieri, assistant professor at Saint Anselm College in New Hampshire, told Xinhua that the negative media coverage, fueled by both leaks and protests and an absence of both trust in administration spokespersons and support from Republicans in Congress, "is keeping people talking about disorganization in the White House, court rivalries within the administration, and the like, rather than on Trump's own initiatives."
"He has said, generally, that he'd like to do tax reform, repeal Obamacare, and pass a major infrastructure bill. But without anything solid to talk about on those fronts, he's got very little to say to counter the terrible press he's been getting," Galdieri said.
US ambassador to Chinanominee pledges to promote agricultural exports to China
Xinhua 2017-02-24 08:49
WASHINGTON -- Iowa Governor Terry Branstad, US President Donald Trump's pick for Ambassador to China, said on Thursday that he would work to ensure the continued growth of US agricultural exports to China when he begins his new job, particularly reopening the Chinese market for American beef.
"The US-China relationship offers many opportunities to continue to grow agricultural exports" to China, Branstad said at the US Department of Agriculture's annual Agricultural Outlook Forum. "I look forward to being an advocate for all agricultural exports in this new role."
US agricultural exports to China have grown more than 200 percent over the past decade and China was the United States' second-largest international market in 2015, according to the US Department of Agriculture.
China has already imported more US soybeans than all the rest of the world combined, and the world's second-largest economy has become a major importer of American pork as well, the governor said, noting that "multi-billion dollar soybean contracts between the United States and China have become a commonplace" .
In terms of his priorities as US Ambassador to China, Branstad said he hoped China to reopen the market for American beef "soon". China halted beef imports from the United States in 2003 to prevent the spread of mad cow disease.
"Mad cow disease is long since gone in this country, and there is no reason why the Chinese should continue to restrict American beef," he said. "I want to serve it in the embassy, and I certainly want to do what I can to try to convince the Chinese leadership to do that sooner rather than later."
Branstad also said he would leverage his "longstanding relationship" with Chinese officials to gain Beijing's quicker approval of genetically modified US corn traits, believing that the "friendship and trust" could help bring down some of the barriers to increase bilateral agricultural trade.
Asked about Trump's "American Frist" trade policy, Branstad downplayed the potential trade disputes between the US and other countries, emphasizing that Trump was a deal-maker and businessman.
"Long time ago, he wrote a book called the Art of the Deal. He is a businessmen, and the best deal is a win-win situation," the governor said, referring to Trump's bestselling book first published in 1987.
"I'm hopeful at the end of the day that the president and his administration will work to improve bilateral agreements and in fact enhance our ability to export," he said. "So it's a matter of trying to negotiate the best deals for America, but in a way that's going to be a win-win for trading partners as well."
Branstad, 70, is the longest-serving governor in the US, who also has long nurtured a close relationship with China and has visited China multiple times. He served as the governor of Iowa in 1983-1999, and again since 2011. He was nominated by Trump to be the next US Ambassador to China in December 2016.
Nurses detained for locking up public-use bikes
China Daily : 2017-02-25 07:18
A public-use bike is seen locked at a residential building in Hefei, Anhui province, in January. [Photo provided to ChinaDaily]
Two nurses in Beijingare under administrative detention for putting their own locks on two publicly shared bikes.
"The two nurses who put private locks on public-use bikes disturbed the public order," said Liu Lin, a lawyer at Beijing Shuangli Law Firm, because it prevented other people from using the bikes.
Those who intentionally damage property may face a five- to 10-day administrative detention, according to the Law on Public Security Administration Punishments.
Tang Ke from the publicity office of OFO, the company that owns the bikes, confirmed the news and said further investigation was underway.
The market for public-use bikes - which are stored along sidewalks and can be accessed through an app - has boomed in China since the middle of last year. The new mode of transportation has brought a greener and more convenient mode of urban transportation, but the model has also caused many problems including illegal parking, theft and vandalism. Parking violations are also a common problem, followed by violation of traffic rules.
"Once users scan the app and click 'accept' when they rent the bike, they have signed an agreement with the service provider and should follow the rules," Liu said.
OFO has introduced a blacklist banning users who break its rules.
Many cities such as Beijing, Shanghai and Shenzhen are proposing draft regulations to manage the market for public bikes. The Shenzhen traffic police department has also announced fines for the illegal parking of bikes.
Bike-sharing firms promise deposit refunds 'in seconds'
Ecns.cn : 2017-02-24 09:55
Ofo bikes are lined up outside a subway entrance in Chengdu, Southwest China's Sichuan province, Jan 19, 2017. [Photo/VCG]
Bike-sharing firms Mobike and Ofo have announced that users can now get back deposits "in seconds" following media inquiries about financial safety.
A Mobike user needs to pay 299 yuan ($43) as a deposit before renting a bike at 1 yuan per hour while its rival Ofo requires a deposit of 99 yuan.
Mobike's monthly active users reached 3.135 million last December, with total deposits hitting 900 million yuan.
Some media reports questioned the safety of such huge amounts of deposit money and suspected lack of supervision over its use.
Mobike said it has opened special bank accounts to ensure financial safety and users can get back their funds any time they want.
It added that some users can't get back their deposits instantly because banks need time to process the transaction. But generally, it takes less than seven working days for money to be returned, the company said.
Ofo also announced a direct refund to users.
Local legislative meetings raise expectations for China's growth
Xinhua 2017-02-26 08:19
BEIJING -- China's resort island province of Hainan aimed to achieve growth of over 7 percent this year, after a 7.5-percent expansion in 2016, as its legislative session closed Friday.
Like Hainan, 20 other provinces, autonomous regions and municipalities lowered or maintained their growth targets this year, indicating the basic tone of "seeking progress while maintaining stability" as set by the central economic work conference in December.
To date, all provincial-level regions have concluded their annual meetings for local lawmakers and political advisors.
The new measures in reform, opening up and structural adjustment announced at local sessions have raised high expectations for the annual sessions of China's top legislature, the National People's Congress (NPC), and the top political advisory body, Chinese People's Political Consultative Conference, in March.
The two meetings are among the most important political events in China,second only to the 19th National Congress of Communist Party of China (CPC) later this year, at which a new leadership of the Party will be elected.
The people's congress system, the country's political basis, has been in place for over six decades at the national, provincial, prefectural, county and township levels.
The NPC has nearly 3,000 deputies from provinces, autonomous regions, municipalities, Hong Kong and Macao special administrative regions, and the People's Liberation Army. Its annual session deliberates and approves the economic and social development plan among other major policies, laws and regulations.
The new economic growth target to be announced at the opening meeting of the legislative session on March 5 will be of note.
China's economy has been continuing its slowdown trend. It reported 6.7 percent GDP growth in 2016, the lowest level in nearly three decades, but likely to top all other major economies. China aims to achieve average annual growth of more than 6.5 percent over the 2016 to 2020 period.
A framework of "new normal" is being introduced to inject new vitality into the economy and ensure more balanced growth.
The provincial growth targets in 2017 will leave room for governments to push on with transformation and supply-side structural reform, including slashing overcapacity in sectors like coal and steel. All these are critical for China to achieve a sustained and healthy economic growth.
Coal-rich Shanxi and central Henan both aim to cut 20 million tonnes of coal capacity this year, after each slashed 23 million tonnes last year.
Hebei, which neighbors Beijing and produces a quarter of the country's iron and steel, aims to further slash 32 million tonnes of steel capacity this year, after a similar level of reduction in 2016.
"This year will be our toughest for capacity reduction. No matter how difficult it is, we are determined to succeed," said Hebei Governor Zhang Qingwei.
Environmental protection is another key item on the agenda, with new pollution treatment targets and measures included in local government work plans.
Beijing, a frequent victim of smog, aims to cut its PM2.5 density by 18 percent to 60 micrograms per cubic meter of air this year, at a planned cost of 18 billion yuan ($2.6 billion dollars).
China's opening-up is expected to gain new momentum this year, as the provinces and municipalities with free trade zones (FTZs) push forward and refine the FTZ system.
There will also be more projects under the Belt and Road Initiative.
Commodity and service centers will be set up in Shanghai this year to boost trade with countries along the Belt and Road. The city signed construction contracts worth 8.9 billion dollars with countries along the ancient trade route last year, up 66 percent year on year.
Moreover, southwestern Sichuan province plans to double the frequency of cargo trains bound for Europe to 1,000 this year. Foreign investment into the inland province hit 8.5 billion dollars in 2016, featuring projects from 17 of the world's top 500 companies.
"China is opening wider to the outside world and it is paying off with win-win results for all those involved," said Xu Yaotong, a professor from the Chinese Academy of Governance.
Reviving the real economy was a hot topic at the local sessions of provincial lawmakers.
Zhejiang Vice Governor Feng Fei said the province would help lower the costs for companies this year so that more resources can be distributed to the real economy.
Poverty alleviation remains a pressing task. Southwestern Yunnan province will bring 1 million of the 3.5 million poor people above the poverty line in 2017.
To achieve "Xiaokang," or a moderately prosperous society in an all-round way, by 2020, this year China will help another 10 million people out of over 45.7 million get rid of poverty.
New government heads of at least 11 provincial-level regions, including Beijing and Shanghai, were elected at the local sessions. These regions' combined GDP exceeds that of Germany.
Notably, local two sessions also stressed the "four consciousnesses" -- the ideology, the whole, the core and the line.
Xi Jinping, general secretary of the CPC Central Committee, was endorsed as the core leader at the Sixth Plenary Session of the 18th CPC Central Committee in late October.
"It is natural to stress the concept. The centralized and unified leadership is gaining consensus," said Dai Yanjun, of the Party School of the CPC Central Committee.
Xi calls for overall national security outlook
BEIJING, Feb. 17 (Xinhua)
President Xi Jinping on Friday called for an overall national security outlook at a seminar in Beijing, emphasizing the importance of political, economic, territorial, social and cyber security.
Xi, who heads the National Security Commission (NSC), presided over the seminar on national security on Friday. Premier Li Keqiang and top legislator Zhang Dejiang, the two deputy heads of the NSC, were present at the seminar.
After listening to reports by Public Security Minister Guo Shengkun, Vice Foreign Minister Zhang Yesui, Hubei Province Party chief Jiang Chaoliang, and Xinjiang Uygur Autonomous Region Party Chief Chen Quanguo, Xi said national security has become more and more important in the work of the Party and the state, adding that national security work is all about the people's interests.
Xi, also general secretary of the Communist Party of China (CPC) Central Committee and chairman of the Central Military Commission, stressed that safeguarding national security requires the grasp of rules in the context of the great changes in the international order, and that the planning work must give priority to the prevention of risks.
National security planning must consider the general background that China is in a period of important strategic opportunity for development, Xi said.
"The overall direction of multipolarization of the world, the globalization of the economy and the democratization of international relations has not changed," said Xi.
"No matter how the international situation changes, we must maintain our strategic steadiness, strategic confidence and strategic patience," the president said.
He called for global vision in national security work, coordinating development and security, combining principles with tactics, and taking the strategic initiative in China's own hand.
Xi called for enhancing a prevention and control system for public security, improving overall capability in social management, and solving problems and disputes at their roots.
Xi stressed efforts should be made to enhance security in fields including transport and production of hazardous chemicals and improve fire prevention and control so that major accidents do not occur.
A firm fence of cyber security should be consolidated, and efforts should be made to better safeguard cyber security and key information infrastructure, Xi said.
Xi said the development of core technologies should be facilitated and early warning and monitoring of cyber security should be strengthened, in addition to ensuring the security of big data.
Xi stressed the need to proactively shape China's external security environment, adding the country must strengthen cooperation in security field and guide the international community to jointly safeguard international security.
Xi called for enhanced capacity building in terms of materials, technology, equipment, talent, law and mechanism to safeguard national security.
He underscored that it was a fundamental principle for national security work to adhere to the leadership of the Party, adding local Party leaderships must fulfill their national security obligations.
China, U.S. agree to work for greater development of relations
BONN, Germany, Feb. 17 (Xinhua)
Chinese Foreign Minister Wang Yi and his U.S. counterpart Rex Tillerson agreed here Friday that the two countries should work together for greater development of bilateral relations during the term of U.S. President Donald Trump.
Wang and Tillerson met on the sidelines of the foreign ministers meeting of the Group of Twenty (G20) to exchange views on bilateral ties and issues of mutual concerns. The meeting is the first of its kind since Tillerson assumed office.
Wang said the recent telephone conversation between Chinese President Xi Jinping and President Trump had been of great significance.
During the conversation, Wang said the U.S. side had made it clear that it would continue to honor the one-China policy and the two leaders agreed that China and the United States could be great partners and should promote greater development of their bilateral relationship from a new starting point.
This key consensus has safeguarded the political basis of Sino-U.S. relations, charted the course of the relationship in the new era, and created the necessary pre-conditions for the two nations to engage in strategic cooperation on bilateral, regional, and global issues, Wang noted.
Wang said that Chinaand the United States, both shouldering the responsibilities of securing world stability and enhancing global prosperity, had more common interests than disputes.
China is ready to work with the U.S.side to implement the consensus reached between President Xi and President Trump, and move bilateral relationship forward in the direction that features no conflict, no confrontation, mutual respect and win-win cooperation, Wang said.
He said the two sides should increase communication, enhance trust, handle differences properly, and deepen cooperation in a bid to ensure greater development of bilateral relations during Trump's presidency, bring tangible interests to the two countries' peoples, and make more contributions to world peace and prosperity.
For his part, Tillerson reiterated the U.S. stance to abide by the one-China policy, which carries specific significance, not only to the bilateral relationship, but also to regional stability and development.
The U.S. secretary of state said the U.S. side looked forward to working with Chinato conduct high-level exchanges, facilitate understanding, and maintain, improve and consolidate mutual dialogue and cooperation mechanisms in all fields.
Tillerson also expressed the U.S.side's hope for strengthened cooperation with China in areas such as economy, finance and security and pushing for greater development of bilateral ties.
Wang and Tillerson also exchanged views over the nuclear issue on the Korean peninsula.
Caixin manufacturing PMI drops to 51
Xinhua 2017-02-03
BEIJING, Feb. 3 (Xinhua) -- China's manufacturing sector continued to slow in January 2017 because of a further improvement in the health of the sector.
The Caixin General Manufacturing Purchasing Managers' Index (PMI) edged down to 51.0 last month from December's 47-month record of 51.9, and was consistent with only a marginal rate of improvement.
A reading above 50 indicates expansion, while a reading below 50 represents contraction.
The rate of improvement slowed since December 2016 as output and new orders increased at weaker rates amid a further reduction in employment. In contrast, new export work rose at the fastest pace since September 2014, according to the survey conducted by financial information service provider Markit and sponsored by Caixin Media Co. Ltd.
At the same time, inflationary pressures remained sharp, with both input costs and output charges increasing at rates scarcely seen throughout the past five years. Nonetheless, companies remained optimistic towards future growth prospects, and expressed the highest degree of optimism towards the 12-month business outlook since July 2016.
China tourism revenue surges in week-long holiday
Xinhua | 2017-02-03
BEIJING, Feb. 2 (Xinhua) -- China's tourism industry raked in 423.3 billion yuan (61.7 billion U.S. dollars) in revenue during the Lunar New Year holiday, as more affluent people become increasingly keen to travel.
The volume marked a year-on-year increase of 15.9 percent, according to calculations by the China National Tourism Administration (CNTA).
During the seven-day holiday, which ends on Thursday, some 344 million visitor trips were made, up 13.8 percent from the same period last year.
The CNTA previously expected that China would see 344 million visitor trips during the holiday.
Overseas travel gains increasing popularity. Some 6.15 million Chinese people travelled abroad during the holiday, up 7 percent year on year.
The travel peak fell on Jan. 27, the first day of the seven-day holiday, which saw 50.5 million vistor trips, up 10.4 percent year on year.
During the New Year holiday, hundreds of millions of people go back to their hometowns to meet relatives and old friends, and in recent years, family travels have become increasingly common that help to drive a tourism boom across the country.
China's domestic tourism industry earned about 3.9 trillion yuan in 2016, and the country plans to raise tourism revenue to 7 trillion yuan by 2020.
The nation will work to develop tourism into a major driver of economic transformation and upgrading. By 2020, investment in tourism is expected to grow to 2 trillion yuan, and the sector will contribute more than 12 percent of GDP, according to a State Council five-year tourism plan (2016-2020).
Year of the Rooster to bring multiple missions
Xinhua | 2017-02-03
BEIJING, Feb. 2 (Xinhua) -- Chinais set for the first working day of the Year of the Rooster as the week-long Spring Festival holiday ends Thursday.
It will be an energetic start for people and their families to achieve their dreams, and the nation will take a step closer towards the dream of creating "quanmian xiaokang," a moderately prosperous society in an all-round way by 2020.
However, this year's steps are set to be challenging, particularly for the Communist Party of China, which was founded in the Year of the Rooster, 1921 to be precise.
The Party will convene its 19th national congress this year, and it needs to accomplish several missions so that the Year of the Rooster is one of good luck.
After lifting more than 700 million people out of poverty in the past 38 years, the country still has about 45 million people living in poor conditions.
Poverty relief is high on the agenda for governments at all levels. Not a single family living in poverty will be left behind, but the closer the country gets to fully eliminating poverty, the more difficult the final steps become.
China's 13th Five-Year Plan outlines priorities for national development from 2016-2020 and proposes support for poor villages to develop signature products and services. Guidelines were also issued calling for enhanced collaboration between developed eastern regions and under-developed western regions to meet poverty-reduction targets.
These efforts have been translated into encouraging signs. At least a further 10 million people will become members of the well-off society this year.
This year is also a crucial year for pushing forward reform across the board.
Hundreds of measures were designed and released during the past four years to address issues such as urbanization, innovation and the market's role in resource allocation. Now the roadmap has taken shape and the focus for the coming years will be on delivery.
Supply-side structural reform will continue to be an economic goal for 2017, including cutting excess capacity, implementing agricultural reforms, boosting the real economy and nurturing new growth.
The restructuring of China's economy and the upgrading of industry is expected to generate huge new demand.
Time is of the essence for reforms in state-owned enterprises as well as in finance and social security. Such sectors concern the development of the country, whose GDP growth stood at 6.7 percent in 2016, a three-decade low, but outpacing most other major economies.
In major political reform, China will establish a national supervisory commission and create a law on national supervision.
Amid efforts to build a clean CPC, the fight against corruption has gained "crushing momentum," netting both "tigers" and "flies," with no letup expected in the future.
On the global stage, China will stick to its commitment to encourage globalization and cooperation, despite difficulties.
In troubled times with a sluggish world economy and a changing geopolitical order, the wise choice is to move forward together.
China is preparing for a host of events of global significance this year, including a Belt and Road forum for international cooperation in Beijingin May, and the ninth BRICS leaders' summit, in southeast China's coastal city of Xiamen in September.
The attitude of openness, inclusivity and sharing is in sharp contrast to the retreat into protectionism and isolation from certain western countries.
This year will be a test of the wisdom needed to maintain sustained, stable and better growth in China-U.S. relations. Although the Trump administration has yet to formulate its China policy, the general trend of cooperation is irreversible and the only right choice for both countries.
Any conflict or trade war could deal a blow to the development of the world's two largest economies. The bottom-line is respecting each other's core interests.
Believing in a shared destiny for mankind, China will continue to expand its circle of friends.
As Michael Moller, head of the United Nations Office at Geneva, put it: "If things go well for China and the Chinese people, the chances are it's going to go well for a lot of other people around the planet."
Coincidentally, the first working day of the Chinese new year is "lichun," or the beginning of spring, the first of the 24 solar terms in the Chinese ancient calendar.
As we wave goodbye to winter, China stands with the world in wishing for a great spring.
China corruption probes up 20% in 2016
Xi Jinping eyes even tougher measures ahead of party reshuffle in the fall
OKI NAGAI, Nikkei staff writer
January 7, 2017
Chinese President Xi Jinping © Xinhua/Kyodo
BEIJING -- China penalized 415,000 officials for discipline violations in 2016, up 20% from the year before, as President Xi Jinping vowed to take his anti-corruption campaign even further by pushing for the creation of a nationwide system for monitoring government workers.
Xi said the fight against corruption "must go deeper" at a meeting of the Communist Party's anti-corruption watchdog, the Central Commission for Discipline Inspection (CCDI), that began Friday. He called for more systematic and efficient efforts for governing the party.
In January 2013, shortly after becoming party chief, Xi said he will crack down on both "tigers," or top officials, and "flies," or rank-and-file civil servants. The number of officials punished for corruption has moe than doubled in three years.
Of those disciplined in 2016, 76held ministerial posts or were part of provincial leadership. Huang Xingguo, who was mayor of Tianjin and acting party chief of the city, is a case in point. Having once worked under Xi, he was considered close to the president. Huang's fall in September "proved that nobody would be spared," a party official said.
Beijing is looking to create a new, powerful anti-graft body that can monitor all of China's civil servants. The Politburo Standing Committee, the Communist Party's highest decision-making body, decided in December to launch the monitoring program on a trial basis in Beijing, as well as in Zhejiang and Shanxi provinces. It can be put in place nationally by 2018, when Xi will start his second term.
Xi at the anti-corruption meeting last year had urged the creation of a system to watch every government agency and every person in the public sector.
State broadcaster CCTV began airing a three-part documentary on corruption within the CCDI on Tuesday. The agency's former chief in Guangdong Province appeared on the program and apologized for taking bribes from his subordinates in exchange for a promotion, saying he could not walk away after being offered more and more money. This was likely aimed at reassuring the public that the watchdogs themselves were also being monitored.
Xi on Friday also pointed out that governance of the party not only affected the party itself, but also the fate of China and its people. His comment reflects concerns that pervasive corruption could undermine the legitimacy of the Communist Party's rule amid an economic slowdown. But most officials who have been purged so far were close to former President Jiang Zemin, fueling speculation that Xi is simply using the anti-corruption campaign to solidify his grip on power.
Trump chooses protectionist-leaning trade representative
Appointment of Robert Lighthizer signals expected shift in US trade policy
JANUARY 3, 2017
Donald Trump has chosen a longtime advocate of greater protectionism as his US trade representative, in another signal that his administration is poised to take into government the aggressive policies he advocated during the campaign.
Robert Lighthizer, who has been leading the Trump transition team's meetings on trade with the Obama administration, served as deputy US trade representative in the administration of Ronald Reagan at a time when the office was renowned for its battles with Japan. He has long represented the US steel industry in cases as a partner at law firm Skadden Arps and in recent years has been a vocal advocate for a protectionist shift in the Republican party.
As US trade representative, Mr Lighthizer would play a key role in delivering on Mr Trump's campaign promises to crack down on unfair trading practices by China and to renegotiate the North American Free Trade Agreement with Canada and Mexico.
"He will do an amazing job helping turn around the failed trade policies which have robbed so many Americans of prosperity," Mr Trump said in a statement announcing his choice.
"I am fully committed to President-elect Trump's mission to level the playing field for American workers and forge better trade policies which will benefit all Americans," Mr Lighthizer said.
Robert E. Lighthizer : Biography And Profile
4 January 2017
Robert E. Lighthizer divides his time between traditional trade litigation, policy advice and legislative initiatives. His clients include large U.S. corporations and coalitions. He represents heavy manufacturing, agricultural and high-tech companies, as well as financial services institutions. He has been lead counsel in scores of antidumping and countervailing duty cases during the past three decades and is active in numerous pending cases and administrative reviews.
Robert Lighthizer also has focused on market-opening trade actions on behalf of U.S. companies seeking access to foreign markets. He is equally at ease devising strategies for and dealing with executive departments and congressional committees.
Mr. Lighthizer was a deputy United States trade representative (USTR) with the rank of ambassador during the Reagan administration. The USTR is the cabinet level agency that develops and coordinates trade policy on behalf of the United States government and negotiates on trade matters for the president. Ambassador Lighthizer had responsibility within the USTR for industry, agriculture, investment and trade policy matters.
During his tenure, Mr. Lighthizer was involved in all the important trade issues. He regularly attended and chaired subcabinet policy meetings and often attended cabinet meetings when the USTR was unavailable. In addition, Mr. Lighthizer negotiated some two dozen bilateral international agreements on subjects ranging from steel to grain. He frequently participated in General Agreement on Tariffs and Trade (now the World Trade Organization) and Organization for Economic Co-Operation and Development meetings.
He also served as vice chairman of the board of the Overseas Private Investment Corp¬oration (OPIC). OPIC is the U.S. government agency whose purpose is to promote economic growth in developing countries through U.S. investment.
Prior to his appointment as deputy USTR, Mr. Lighthizer was chief of staff of the United States Senate Committee on Finance. The committee has jurisdiction over international trade, taxation, Social Security and health and welfare programs. During Mr. Lighthizer's tenure, Congress passed the basic economic legislation of the Reagan-Bush administration, as well as the legislation implementing multilateral trade negotiations.
Mr. Lighthizer remains active in national politics, and was national treasurer of the 1996 Republican Presidential Campaign. He speaks and writes often in the United States and abroad on trade and tax issues, politics and other developments in Washington. He serves on the boards of charitable and political groups.
Mr. Lighthizer repeatedly has been selected for inclusion in Chambers Global: The World's Leading Lawyers for Business and Chambers USA: America's Leading Lawyers for Business. He also has been recognized in Expert Guides - Euromoney Institutional Investor, The Best of the Best USA, Legal 500, Lawdragon 500 Leading Lawyers in America and Who's Who Legal. Mr. Lighthizer was named one of the 2013 "BTI Client Service All-Stars" by The BTI Consulting Group for providing outstanding client service. The Skadden international trade group received the Chambers USA Award for Excellence 2014.
Bar Admissions
- District of Columbia
Education
- J.D., Georgetown University Law Center, 1973
- B.A., Georgetown University, 1969
Update: January 3, 2017
U.S. President-elect Donald Trump on Tuesday named veteran steel industry trade lawyer Robert Lighthizer, a harsh critic of China's trade practices, to be his chief trade negotiator, responsible for better deals aimed at reducing U.S. trade deficits. Trump announced his selection in a statement from his transition team on Tuesday, saying Lighthizer would help "fight for good trade deals that put the American worker first."
Six directions of the Central Economic Work Conference
By Wu Xiaobo | chinadaily.com.cn | Updated: 2016-12-20
Chinese leaders concluded the Central Economic Work Conference, an annual meeting that decided the country's economic direction for the next year, in Beijing on Friday.
Ning Jizhe, deputy head of the National Development and Reform Commission and head of the National Bureau of Statistics, expounded the six points agreed by the leaders, at a forum in Beijing on Saturday.
1. New normal
New normal is the general logic of China's economic work at present and in the years ahead. The stage of new normal calls for changes in speed of growth, economic structure and growth drivers, namely, the change from high speed to medium-to-high speed, the change from low-and-medium end to medium-and-high end, and the change from old growth drivers to new growth drivers.
2. Progress with stability
According to the Central Economic Work Conference, seeking progress while maintaining stability is a key principle for governance and also a methodology for economic work.
3. Supply-side reform
The conference emphasized that next year will be a year to deepen the supply-side structural reform.
4. New development concept
According to the conference, it is imperative to adopt and implement the new development concept, namely the concept of innovative, coordinated, green, open and shared development.
5. Improving quality and efficiency
The core of economic work is improving the quality and efficiency of economic development, according to the conference.
6. Combination of policies
The idea is to ensure that continuity and stability of macro-level policy is maintained, industrial policy is targeted at different sectors, micro-level policy injects dynamism into the economy, the reforms deliver results, and basic living standards are met through social policies.
Island defenses 'legitimate, legal'
By Li Xiaokun | China Daily | 2016-12-16
Beijing says measures taken on the Nanshas are not 'militarization'
Beijing said on Thursday that necessary military measures on the Nansha Islands are mainly for defense, citing a high-profile foreign military presence right "outside the front door", an apparent reference to the United States.
The Defense Ministry's remarks on its micro blog followed a report by a US think tank on Wednesday.
The report by the Washington-based Center for Strategic and International Studies, which cited recent satellite images, said China appeared to have installed weapons, including anti-aircraft and anti-missile systems, on seven islands in the South China Sea.
The Defense Ministry said development on the Nansha Islands was mainly for civilian purposes, while necessary military measures there were mainly for defense and were "legitimate and legal".
"For example, were someone to be threatening you with armed force outside your front door, would you not get ready with even a slingshot?" the ministry said on the micro blog.
The US military has repeatedly conducted "freedom of navigation" operations in which ships and planes have passed close to Chinese territory.
Beijing said the moves were provocations and increased the risk of a military accident.
Admiral Harry Harris, who leads the US Pacific Command, said on Wednesday that the United States will be ready to confront China "where we must".
US president-elect Donald Trump also hinted on Twitter that he would be harsher than his predecessor with China in the South China Sea.
Foreign Ministry spokesman Geng Shuang told a regular news briefing on Thursday, "If China's building of normal facilities and deploying necessary territorial defensive facilities on its own islands is considered militarization, then what is the sailing of fleets into the South China Sea?"
He said the Nansha Islands "are China's inherent territory".
He said the defensive facilities on China's territory are completely normal and have nothing to do with "militarization".
Zuo Xiying, a researcher of international relations at Renmin University of China, said, "Given existing foreign threats against China in the South China Sea, how can China put no defensive measures in the region?
"And, for sure, the US will continue using this topic to press China," he said.
Zuo added that it seems Beijing and Washington have different understandings of non-militarization in the South China Sea.
Alexander Neill, a senior fellow for Asia-Pacific security at the International Institute for Strategic Studies in Singapore, told the Associated Press that, looking forward, China's new military deployments will likely be calibrated in response to moves taken by the US.
Terry Branstad's Relationship with China: 5 Fast Facts You Need to Know
December 7, 2016
President-Elect Donald Trump is expected to nominate Terry Branstad to serve as the United States' ambassador to China.
Branstad is the current governor of Iowa who is in the middle of his sixth four-year term. This role is more important this year than ever considering Trump's rocky relationship with China, having repeatedly criticized them throughout the campaign trail and recently taking a phone call from Taiwan, which China does not recognize as a sovereign nation. The president-elect also recently went on a Twitter rant against the country.
But Branstad has a close relationship with China and specifically with the nation's president, Xi Jinping. Republicans praised the nomination on Wednesday morning, and Trump is expected to make this choice official at his "Thank You" rally in Iowa on Thursday night.
Here's what you need to know about Terry Branstad and his relationship with China.
1. Terry Branstad Is a Personal Friend of Xi Jinping
Xi Jinping and Terry Branstad raise their glasses in a toast at a State Dinner at the state Capitol in February 15, 2012 in Des Moines, Iowa. (Getty)
Not only does Terry Branstad have a good diplomatic relationship with China, but he is also a personal friend of the nation's president, Xi Jinping.
Branstad was serving as the governor of Iowa in 1985 when Xi traveled to the state as an agricultural official. They met many more times over the years and formed a relationship in part due to their mutual fondness for agriculture, according to the South China Morning Post.
Recently, Branstad spent a week on a trade mission to China, which was his fourth trip there over the past seven years. During a trip to China in 2011, the two spoke in private for about 45 minutes, according to The Washington Post. Branstad also held a dinner for Jinping at the Iowa Capitol in 2012.
2. China Has Welcomed the Choice, Calling Branstad an Old Friend
Terry Branstad speaks to guests at the Iowa Freedom Summit on January 24, 2015 in Des Moines, Iowa. (Getty)
Although Branstad's nomination is not yet official, China's foreign ministry reacted to reports of his nomination quite positively.
"First of all, I would like to say that Mr. Branstad is an old friend of the Chinese people and we welcome him to play a greater role in promoting Sino-U. S. relations, "spokesman Lu Kang said during a news conference this week, according to The Washington Post. "The U.S. ambassador to China is an important bridge between the U.S. government and the Chinese government. No matter who is in this position, we are willing to work with him to push forward the sound, steady and steady development of Sino-U. S. relations."
During a rally in Iowa shortly before the election, Trump indicated that Branstad could be his pick for ambassador to China.
"You would be our prime candidate to take care of China," Trump said to the Iowa governor on stage.
3. Branstad's State Has Economic Ties to China
Terry Branstad greets Chinese President Xi Jinping before a forum for U.S. And Chinese governors September 22, 2015 in Seattle, Washington. (Getty)
In addition to having a good personal relationship with China's president, Branstad also has an economic relationship with the nation.
Iowa is the United States' top corn producer and one of the top soybean producers, and in 2012, soybean buyers from China announced a $4 billion deal with the United States, according to Reuters.
America's agriculture exports to China reached a record level last year. According to Bloomberg, Iowa exported $2.3 billion in goods to China in 2015, with $1.4 billion of that being made up of crop exports.
4. Some Experts Are Unsure About His Experience
Terry Branstad attends a meeting of U.S. and Chinese governors and Chinese President Xi Jinping to discuss clean technology and economic development. (Getty)
Although Branstad has done business with China for many years, some say they are unsure whether he has the diplomatic experience necessary to be the ambassador to China.
Diplomats and trade experts who spoke with Reuters said that they did not know that the Iowa governor was prepared for the delicate task of diplomacy and of dealing with the Beijing government.
In addition to serving as governor of Iowa from 1983 to 1999 and then from 2011 until today, Branstad's experience also includes work as president of Des Moines University and chair of President George W. Bush's Commission for Excellence in Special Education.
5. Donald Trump's Recent Call With Taiwan Angered China
Donald Trump speaks at a post-election rally in Cincinnati, Ohio. (Getty)
The nomination of Terry Branstad comes at a crucial time, as President-Elect Donald Trump recently angered the nation of China with a major diplomatic faux-pas.
Last week, Donald Trump took a phone call from Taiwan President Tsai Ing-wen. He became the first president in decades to do so; China does not recognize Taiwan as a legitimate nation, and countries with diplomatic ties to China do not also have official diplomatic ties with Taiwan.
Although Chinese officials initially downplayed the importance of this phone call, Lu Kang, China's foreign ministry spokesman, said in a press conference on Monday that Beijing had made its unhappiness known to Trump's transition team, according to The Wall Street Journal.
In the past, Trump has threatened to impose a tariff of 35 to 45 percent on Chinese exports.
Infrastructure can be China-US bridge
By HEZI JIANG in New York
Chinadaily Updated: 2016-12-02
Fu Ying sees infrastructure as a great opportunity for US-China cooperation under America's president-elect.
"You need a bigger harbor," said Fu, chairperson of the Foreign Affairs Committee of the National People's Congress of China, drawing audience chuckles during a China-US forum on Thursday held by New York University (NYU) and the China-US Exchange Foundation at the NYU Law School.
Fu said that the CEO of COSCO Group, China's largest shipping company, told the US Congress two years ago that America has to upgrade its ports to grow its exports.
"But America doesn't want to take investment from other countries like China, and you don't invest yourself," she quoted the CEO as saying.
She said the election of Donald Trump may lead to a new phase, as he vowed to "transform America's crumbling infrastructure".
"US needs to be more open. I think there can be very, very good cooperation," said Fu, who formerly served as China's ambassador to Australia and the United Kingdom. "Back then, China borrowed from all over the world to build our infrastructure, and now we are building railways and highways in Africa."
Asked if she worries about a changing landscape of US-China relations under the Trump administration, Fu said it was too soon to tell, but she is not pessimistic.
She said the phone call between President Xi Jinping and Trump was "very encouraging", as Trump agreed with Xi that cooperation is the only choice between the two countries, and they will advance the relationships to bring more benefits to the people of the two countries.
She said a trade war between the two was unlikely.
"It will bring too much damage after some calculation," Fu said. "Especially (because) your president-elect is a businessman. He's smart enough."
But she hopes for an improvement in trade and investment between the countries, and wants America to be more clear and consistent with its message.
"What do you want exactly? You want China to invest in here, to create jobs? Then why do you politicize the investments from China?" asked Fu, who suggested the US government and political candidates be more careful with rhetoric about China. "People are listening. The world is listening," she said.
Also in attendance was Stapleton Roy, a senior US diplomat who spent much of his career in East Asia cities, including Beijing, Hong Kong and Taipei.
Roy endorsed Fu on the idea of infrastructure, and said the two countries should further cooperate on climate change and cybersecurity. He said the US may still participate in China's Belt and Road Initiative despite it refused to join the Asian Infrastructure Investment Bank project, which he considers as a mistake.
Fu said "we were surprised and disappointed that the US was against" the Asian Infrastructure Investment Bank. "But the US is especially welcome to join the Belt and Road initiative, with all the advantages the US has."
China issues white paper stressing development as top priority
Source: Xinhua 2016-12-01
BEIJING, Dec. 1 (Xinhua) -- The Chinese government Thursday issued a white paper on the right to development, expounding on its philosophy, practice and contribution.
The white paper, titled "The Right to Development: China's Philosophy, Practice and Contribution," said that development is the top priority of the Communist Party of China in governance and national revitalization, and the key to resolving all other problems.
It said that Chinais willing to join the international community to share its philosophy and experience and to boost sound development of global human rights.
POVERTY REDUCTION
According to the white paper, China has lifted 700 million people out of poverty through more than 30 years of reform and opening-up, accounting for more than 70 percent of the global reduction in poverty.
The average life expectancy in the nation had grown from 35 years in 1949 to 76.34 years in 2015, ranking high among the developing countries, the white paper said.
The level of education has also soared. In 1949, more than 80 percent of the national population was illiterate, and the enrollment rate of school-age children was only 20 percent.
In 2015, net enrollment rate of school-age children at the primary school stage was 99.88 percent and that at the senior high school stage was 87 percent. China's higher education has approached the level of medium-developed countries, the white paper added.
China's Human Development Index (HDI) in 2014 ranked 90th among 188 countries, already in the high human development group, it said, citing the "China National Human Development Report 2016" released by the United Nations.
ENSURING PEOPLE'S RIGHT TO DEVELOPMENT
A legal system with Chinese characteristics has provided a legal basis for the people's right to development, according to the white paper.
Chinahas promulgated and implemented a series of laws and regulations to protect the right to development of all citizens, especially that of the ethnic minorities, women, children, senior citizens, and the disabled, it said.
To ensure people's right to development, China has issued the National Human Rights Action Plan (2009-2010), (2012-2015), and (2016-2020), striving to address the most immediate problems that are of the most concern to the public, it added.
The Chinese government has also formulated special action plans in the fields of economy, culture, society, and environment, and built a judicial remedy mechanism to prevent and punish infringements of people's right to development.
PROMOTING COMMON DEVELOPMENT
Chinahas provided approximately 400 billion yuan (about 58 billion U.S. dollars) in development aid to 166 countries and international organizations over the past 60 years, said the white paper.
The world's current second largest economy has trained more than 12 million personnel from developing countries, and dispatched over 600,000 people to aid development in other countries.
Among them, 700 have given their lives in the course of these programs.
It will also increase its investment in the least developing countries, write off certain countries' debts, establish an International Development Knowledge Center, and further the Belt and Road Initiative, an infrastructure and trade network proposed by Chinain 2013, the white paper said.
In the next five years, China will implement six "One Hundred Programs" targeting developing countries -- namely 100 poverty reduction programs, 100 agricultural cooperation programs, 100 trade aid programs, 100 eco-protection and climate change programs, 100 hospitals and clinics, and 100 schools and vocational training centers, it said.
FOREFRONT IN INTERNATIONAL PEACEKEEPING
As a staunch contributor to international peacekeeping, Chinahas to date sent 33,000 military, police and civilian personnel to join UN peacekeeping missions.
In the coming five years China will train 2,000 peacekeeping personnel for other countries, launch 10 mine sweeping aid programs, provide 100 million U.S. dollars of non-reimbursable military aid to the African Union, and allocate part of the China-UN Peace and Development Fund to support UN peacekeeping operations, the white paper said.
" China joins other countries in safeguarding international peace, opposes all forms of terrorism, and supports international and regional cooperation in fighting terrorism, in order to create an environment of peace and harmony that promotes development and thereby consolidates peace," the document read.
COMMITMENTS TO INTERNATIONAL CONVENTIONS
Chinahas been actively honoring its commitments to various international conventions that propel environmentally-friendly development, said the white paper.
Chinabecame the first country in the world to formulate and implement a national strategy to cope with climate change.
The country has eliminated the production, use, and import and export of 17 of the 26 types of persistent organic pollutants listed in the "Stockholm Convention on Persistent Organic Pollutants," according to the paper.
Chinahas made significant efforts in moving the Paris Agreement on greenhouse gas emission mitigation toward adoption and taking effect, it said.
According to the white paper, by the end of 2015, total forest acreage in China had reached 208 million hectares, covering 21.66 percent of China's total land area, and the country has 2,740 nature reserves, covering a total area of 147.03 million hectares.
China homebuilders to see shrinking sales in 2017: Fitch
Source: Xinhua 2016-12-02
BEIJING, Dec. 2 (Xinhua) -- Largely due to city-specific policies taken to clamp down on speculative housing demand, China's homebuilders are expected to see waning sales in 2017, ratings agency Fitch said in a report Friday.
China's housing sales in terms of gross floor area were forecast to decline by 17 percent in 2017, following robust growth this year, Fitch said.
The ratings agency also predicted a low-single-digit rise in average housing sales prices next year, adding that "this reversal will be due mainly to slowing sales in most Tier 2 cities".
Fitch expected the market imbalance to persist as destocking pressure should remain intense in weak Tier 2 and Tier 3 cities.
"Tier 1 cities, in contrast, are likely to face continued constraint on supply, which has been quickly absorbed by buoyant demand in the last two years," the report said.
Fitch expects Tier 1 city governments to maintain their tight grip on policies to suppress investment demand.
The report was released after several measures were taken to rein in speculative housing purchases, check asset bubble risks and stabilize the market, with dozens of Chinese cities modifying market rules, including higher deposits and more restrictions.
Chinese spending on shopping, food hit record high during National Day holiday
BEIJING, Oct. 7 (Xinhua)
Chinese spent a record high sum of money on shopping and food during the past week-long National Day holiday, according to the Ministry of Commerce on Friday.
Enterprises in the retail and catering sectors raked in about 1.2 trillion yuan (180 billion U.S. dollars) from Oct. 1 to Oct. 7, up 10.7 percent, MOC data showed.
This was the second consecutive year for the "Golden Week" to see over one trillion yuan spending in retail and catering consumption since 1999.
West China's Chongqing Municipality and Sichuan Province and central China's Hunan Province were the top three regions seeing booming retail and catering business.
In breakdown, gold and jewelry, home appliances, IT products and new energy vehicles were the most popular goods, while banquets celebrating wedding, birthday and home reunion were the major contributors to catering services.
Altogether 593 million people visited tourist attractions around the country and spent 482.2 billion yuan during the holiday, up 12.8 percent and 14.4 percent respectively year on year, according to the China National Tourism Administration.
Premier Li addresses UN General Assembly
english.gov.cn: Sep 20, 2016
Premier Li Keqiang addresses the summit for refugees and migrants at the 71st session of the United Nations General Assembly on Sept 19 in New York. [Photo/Xinhua]
Premier Li Keqiang addressed the summit for refugees and migrants at the 71st session of the United Nations General Assembly on Sept 19 in New York.
It was the UN's first high-level meeting addressing large-scale movements of refugees and migrants since the organization's founding, as the problems were becoming increasingly urgent and the meeting raised the attention of the world community on the issue, said the Premier.
Premier Li said the refugee and migrant problem concerns global peace and development and affects regional stability, so the global society needs to cope with it proactively.
Premier Li addresses the summit for refugees and migrants at the 71st session of the United Nations General Assembly on Sept 19 in New York. [Photo/Xinhua]
The issue is a humanitarian crisis and a question of moral conscience, so the global community must lend a hand to the refugees, promote humanitarianism and safeguard the moral bottom line, said Premier Li.
He added that the resolution of such problems required global cooperation and the UN should fully exert its coordinative functions, work out and implement comprehensive solutions to jointly crack down on stowaways, human trafficking and terrorism.
Premier Li addresses the summit for refugees and migrants at the 71st session of the United Nations General Assembly on Sept 19 in New York. [Photo/Xinhua]
Cooperation from refugee-origin countries is also important, Premier Li noted. He urged stakeholders to resolve disputes through dialogue and negotiation and called on the international community to lead peace talks and promote more balanced global development.
The Premier also said that China, as a large developing country, is always willing to join in the global effort to solve the refugee and migrant problem and shoulder the responsibility that is suitable to its capacity.
Premier Li attends the summit for refugees and migrants at the 71st session of the United Nations General Assembly on Sept 19 in New York. [Photo/Xinhua]
He stressed that China will take a series of humanitarian measures and seek three-party cooperation with international institutions and developing countries on refugee and migrant problems.
Premier Li also expressed his hopes that the problems brought by massive movements of refugees and migrants can be finally resolved through the joint efforts of the international community.
China to join Australia, US in exercises
China Daily : 2016-08-26
Beijing confirmed on Thursday that China will hold joint military exercises in September involving Australia and the United States, in addition to its joint naval drill with Russia in the South China Sea next month.
Observers said the drills show the steady development of the Chinese military's ties with key Asia-Pacific counterparts and signal efforts to ensure stability to help ease maritime tension in the South China Sea.
Wu Qian, spokesman for the Ministry of National Defense, announced at a briefing in Beijing that China, Australia and the United States will conduct "Exercise Kowari 2016" in Darwin, Australia, from Wednesday to September 11.
The exercise, the third among the three countries' ground forces, will involve drills for survival in the wild, Wu said.
Additionally, Chinese and Australian troops will hold "Exercise Panda-Kangaroo 2016" in Sydney from September 14 to 23. The exercise will include such tasks as canoeing, Wu said.
Zhang Junshe, a researcher at the PLA Naval Military Studies Research Institute, said the Kowari exercise mirrors a "shared readiness to bring the trilateral security relationship forward".
The fact that the two annual drills involving Australia will be continued this year "demonstrates Australia's wish to avoid sabotaging its security ties with China", Zhang said.
Australia has joined the United States and Japan in pressing China to accept an international arbitration ruling in July in a case unilaterally initiated by the Philippines in its dispute with China in the South China Sea.
Zhang said Australia is trying to strike a balance between the US, its traditional security ally, and China, a major economic and trade partner.
"It is wise to avoid taking sides between China and the US and stop supporting US provocation against China over the South China Sea issue," Zhang added.
In July, the Ministry of National Defense announced that the navies of China and Russia will hold a joint drill in the South China Sea in September to "enhance the capabilities of the two navies to jointly deal with maritime security threats".
On Thursday, Wu said the drill will involve "joint maritime defense actions".
Yin Zhuo, director of the Expert Consultation Committee of the People's Liberation Army Navy, said it is natural for Beijing and Moscow to hold a drill in the South China Sea this year, since they have previously held exercises in other coastal regions of China.
The China-Russia exercise is "out of security consideration" and has no specific target, Yin added.
G20 to enhance China-Indonesia ties: Ambassador
Chinadaily : 2016-08-26
As an important forum for cooperation among developed countries, emerging economies and developing countries, the G20 plays a key role in leading and advancing international economic cooperation, Xie Feng, the Chinese Ambassador to Indonesia, said in an article published on The Jakarta Post Wednesday.
Xie said that as the holder of the G20 presidency, China is keenly aware of the heavy responsibilities on its shoulders. During preparations for the G20 Hangzhou summit, China is working with all parties to pull in one direction in the spirit of a win-win partnership and to help pool wisdom and form synergy.
According to Xie, China is working to seek common solutions and contribute China's wisdom to this year's summit themed "Toward an Innovative, Invigorated, Interconnected and Inclusive World Economy".
"As an important emerging economy and a major developing country, Indonesia is the only Southeast Asian member of the G20. Under the leadership of President Jokowi, Indonesia is committed to promoting reform, development and people's livelihoods and has achieved sustained and rapid growth," Xie said.
"I am confident that with concerted efforts from all parties, the Hangzhou summit will fulfill our expectations and help build confidence and hope across the globe."
According to Xie, Indonesia plays an indispensable role in stabilizing the global economy. It has become the third-fastest growing economy among G20 members with an annual growth rate of 4.8 percent in 2015.
Statistics from the Investment Coordinating Board (BKPM) also show that Indonesia's realized foreign direct investment (FDI) in the first half of 2016 increased by 12.3 percent to exceed $14 billion, including $1.01 billion from the Chinese mainland, which increased significantly by 532 percent from the same period last year, Xie wrote in the article.
"These figures demonstrate the confidence of Chinese and other international investors in Indonesia's economy. I have full confidence in Indonesia's growth prospects as well as our trade and investment cooperation."
In the article, Xie mentioned that as an active participant in previous G20 summits, Indonesia has made important and unique contributions to the reform of international financial institutions, infrastructure cooperation and global sustainable development and helped to uphold the interests of developing countries. "China and Indonesia are the two largest emerging economies in East Asia and share similar positions and broad common interests in enhancing and reforming global economic governance," he said.
"Indonesian President Jokowi will soon leave for China to attend the G20 summit and meet with President Xi. This will be President Jokowi's third visit to China and the fifth meeting between our two presidents. Such frequent high-level exchange is unprecedented in our bilateral history and demonstrates the high standards of performance of our relationship.
"The two presidents will have in-depth discussions on aligning our development strategies, enhancing practical cooperation and jointly promoting peace and prosperity in the region and beyond. Hangzhou, renowned for its rich history, is also a city of innovation," according to Xie.
"It is a cosmopolitan city with a distinctive Chinese cultural appeal and global vision. I believe President Jokowi's upcoming visit will not only help to ensure a successful G20 summit but also reinvigorate the growth of our bilateral ties," he said.
SHFE swears by rules, but says futures 'is not a mass market'
China Daily : 2016-07-18
The Shanghai Futures Exchange has vowed it won't tolerate any abuse of trading rules after the unprecedented boom-bust episode in Chinese commodities markets earlier this year, adding that its products aren't for mom and pop investors.
"Futures isn't a mass market but a professional one," the nation's biggest raw materials exchange said in comments to Bloomberg News. There'll be "zero tolerance" of any activity that violates regulations, according to the statement, which said more than 900 cases of what it called abnormal activity were settled in the first five months.
Raw-material futures in China in everything from steel to feed surged then swooned in the period from March through to May as retail investors were caught up in a frenzy that drew parallels with the nation's $5 trillion stock-market rout last year. The exchange said that well-functioning markets are a key support for policy makers' drive to achieve supply-side reforms that aid price-discovery and hedging, and that it also plans to press on with opening up to overseas investors.
The exchange will "serve industrial development, especially at a key stage of supply-side reform," it said, referring to the government's drive to rein in excess capacity and shift the economy toward consumption as growth slows. "The Chinese commodity market so far has a low level of foreign participation, so we will continue to push for opening up in an active and steady manner."
Trading in steel reinforcement bar was emblematic of the rise and fall, as retail investors first jumped into commodity markets, lifting prices, then fled as the country's top regulator and exchanges tackled the bubble by raising margins and tightening rules. Turnover in the rebar market on April 21 exceeded the value of all Chinese stocks traded on the Shanghai and Shenzhen equity markets combined. It also topped China's actual rebar production.
Steel and iron in China surged earlier this year as there was a "lot of liquidity looking for a place to speculate" after the central bank pumped in liquidity, independent economist Andy Xie told Bloomberg Television on Tuesday. In the long term, the trend for iron ore is still down, Xie said.
"In the public mind, there's still insufficient understanding of the futures market," the exchange said in the statement, which was received late last month. "The Chinese futures market is still in its infant stage after 20 years of existence. Therefore there are many misunderstandings."
At the height of the craze in April, the London Metal Exchange described volumes in China as phenomenal, and said it's possible some traders didn't know what they were buying or selling. Chief Executive Officer Garry Jones said: "Why should rebar be one of the world's most actively-traded futures?"
"Unlike many competitors overseas, we are a non-profit organization catering to industries," the Shanghai exchange said, without identifying rivals by name. "The SHFE will continue to uphold our rule of serving industrial development, especially at a key stage of the supply-side reform in the country."
The exchange said its unique advantage is its role in developing markets in the world's largest trading nation, citing the "sheer mass" of commodities that change hands. Still, there is a need to raise liquidity in its less-traded contracts, it said, without listing any particular products.
China Can Achieve Growth Target Through Innovation: Nobel Prize-winning Economists
20 April 2016
Several Nobel laureates and renowned economists have said that China has the ability to achieve its growth target for 2016, with innovation as an important engine to boost the economy.
In recent interviews with Xinhua, winners of the Nobel Prize in Economics -- Joseph Stiglitz, Michael Spence and Edmund Phelps -- all agreed that China's annual growth target of 6.5 percent to 7 percent for 2016, as announced by Premier Li Keqiang in March, is within a viable range.
"I think the growth target is realistic," said Spence. He also expressed the hope that China could focus more on the quality of the growth.
Stiglitz said that although facing a sluggish global economy, China can realize a 6.5-percent economic growth if it adopts rational economic policies and "responds quickly to the global slowdown."
He pointed out that China still lags behind developed countries in terms of productivity.
"It is important for China to close that gap. If it could close that gap, it would grow even faster than the 6.5 percent," he added.
Meanwhile, Phelps believed that three factors would contribute to China's continued economic growth: technology transfers from the industrialized countries to help boost productivity; entrepreneurship and innovation to bring down production costs; and massive urbanization to provide sustained growth.
"Most of what was going for China before is still present and is still pushing productivity ahead," he said.
The three U.S. economists also endorsed the Chinese government policy of encouraging entrepreneurship and innovation, stressing the key role of innovation in economic growth.
"The Chinese have always been very entrepreneurial people," said Phelps. "Innovation is alive and is developing in China, that will go on and nothing will happen to derail it."
Phelps said the growing number of startups in China is somewhat attributable to the government's encouraging policies, which have prompted banks to provide greater financial support for new entrepreneurs.
He suggested that the education system in China should also focus more on fostering a passion for innovation.
According to Spence, to fully tap the potential of its vast domestic market, China needs to promote innovation in its manufacturing sector so as to further boost productivity.
He noted that there will be innovation in the service sector as well. "The digital technology in logistics and service provisions is powerful, there's lots of room. It will be, not the only, but an important drive of growth."
Citing China's contribution to the development of solar panel technologies, Stiglitz said the country has the ability to play a leading role in technological innovation, particularly in the fields closely related to well-being and sustainability.
For example, he said there's more room for China to be innovative regarding environmental technologies, which have so far received scant attention and funding from Western countries.
As the Chinese economy shows signs of a slowdown in a transitional period featuring structural reforms, the world is watching with both hope and anxiety.
Spence told the South China Morning Post in March that China is well on its way to shift to a growth pattern better suited for future prosperity.
"One thing China has been very good at is managing the process, making steady progress and not trying to do everything at once," he was quoted as saying.
Christopher Pissarides, also a Nobel laureate, said last month at an economic forum held at Peking University that there's no factual basis to be pessimistic about the Chinese economy.
"What I see is that China is actively promoting its economic restructuring," said the British-Cypriot economist, "and I'm full of confidence about the prospect of the Chinese economy."
China hopes to reach Mars in 2021
Xinhua 2016-04-22
BEIJING, April 22 (Xinhua) China's mission to Mars will set forth around 2020, aiming to reach the planet when the Communist Party of China marks its centenary in 2021, it was announced on Friday.
"The probe is expected to orbit the red planet, land and deploy a rover all in one mission, which is quite difficult to achieve," said Xu Dazhe, director of China's National Space Administration, at a press conference ahead of April 24 celebrations marking the launch of the country's first satellite 46 years ago.
Xu revealed that the mission was approved by central authorities in January.
China is planning rigorously to send the probe into space in the launch window of 2020, Xu said, adding that favorable alignment of Earth and Mars occurs for only a few weeks every 26 months, and 2020 was when a window would occur.
Stressing the mission's importance and difficulty, he said that although China has sent spacecraft deep into space, "only by completing this Mars probe mission can China say it has embarked on the exploration of deep space in the true sense."
The spacecraft, which will be put into space by the new-generation Long March-5 heavylift rocket, is being developed by the China Academy of Space Technology (CAST).
Wang Zhongyang, CAST spokesperson, told Xinhua that the Mars program will study Mars' climate, composition of surface, ionosphere, distribution of water ice, internal structure, topography, and its physical field.
Unlike India's Mars maiden mission Mangalyaan, which only made equatorial orbits, China's probe will be guided into a large elliptical orbit allowing for better observations of the planet's surface, said Ye Peijian, one of China's leading aerospace experts and a consultant to the program.
"The entry device will land a rover on the surface, which will 'walk' on the Mars," said Ye.
The exploration of Mars has significance for understanding the evolution of the universe, the structure of matter, and the origins of life, Ye added, stressing that in terms of prospects of emigrating mankind in the future, Mars is the most worthy of exploration in the Solar System.
"Our exploration can help us gain fresh or deeper insight into Mars," said Ye.
There have been over 40 missions to Mars since 1960. In the first 10 years of the 21st Century, more missions were launched to Mars than to the Moon.
The former Soviet Union, the United States, Europe and India have already completed successful missions to Mars.
"China already lags behind in the exploration of Mars, but our capability for deep space exploration has been strengthened through the lunar program," Ye said.
"We are confident of the probe reaching Mars when the Communist Party of China celebrates its 100th birthday in 2021," he said.
China's top legislature announces tasks for 2016
BEIJING, April 22 (Xinhua) Chinese lawmakers will review draft laws on international criminal judicial assistance and national defense transportation this year, according to the plan released Friday by the top legislature.
The national defense transportation draft law aims to improve coordination between different departments.
Laws on environmental protection tax, public culture services, community correction will also be tabled this year to the National People's Congress (NPC) Standing Committee for first reading.
The top legislature will also review amendments to laws on the Red Cross Society, maritime environmental protection, water pollution and small- and medium-sized enterprises.
Meanwhile, the NPC Standing Committee will continue deliberating laws on deep sea resource exploration, charities, administration of overseas non-governmental organizations and cyber security.
"Other laws to be drafted or amended in accordance with the country's drives to deepen reform and promote the rule of law, the 2016-2020 development plan, national defense and military reform will also be arranged for deliberation at a proper time," it said.
In addition, lawmakers will check enforcement of laws on environmental protection, food safety, road traffic safety, transformation of scientific and technological achievements, water and work safety.
Reports on environmental protection, food safety, higher education reforms and judicial transparency are also set to be heard by legislators.
The NPC Standing Committee will also step up supervision on the enforcement of the Constitution.
Elections of NPC delegates will begin this year. Adhering to the Party's leadership, the NPC Standing Committee will promote democracy and follow procedures in strict accordance with the law, to ensure that the elections are held honestly and in an orderly manner.